Online assessment platform for matching and recruiting.
Assess the traits that matter and hire better.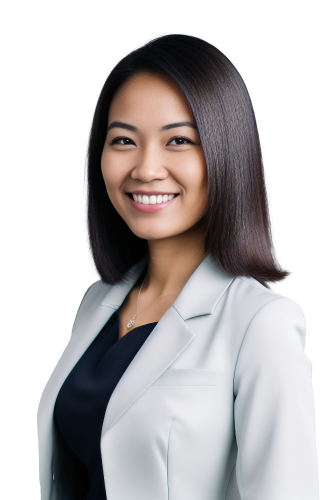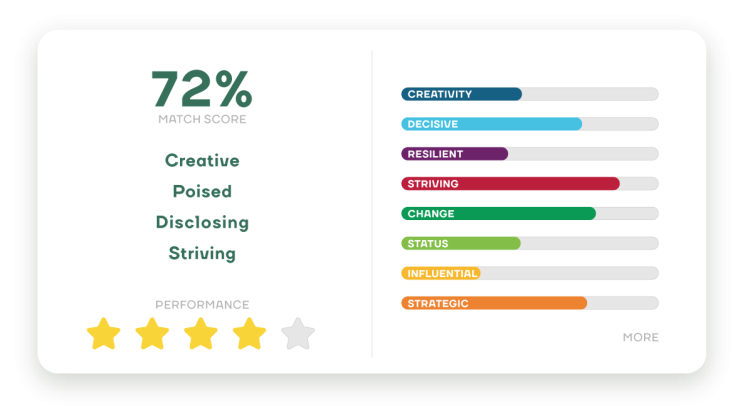 Powerful insights into people at work.
Clevry assessments provide powerful insights into your candidates' personality, ability and motivational drivers within the workplace. Gain a  more well-rounded view of your future talent and their ability to perform in the role. 
Choose from a range of psychometric reports including personality profiles, onboarding, team strengths and leadership so your new recruits can hit the ground running.
Easily create 'assessment campaigns' for your recruitment and development processes. Choose from a range of different assessments for candidates to complete online, including personality questionnaires, ability tests, situational judgement tests and other recruitment tools.

Clevry daisy chains your selected assessments together into a single, integrated online process for your candidates for a more seamless recruitment process.
Easily assess the traits that matter
Choose from a range of different personality scales and use only the ones that are most relevant to your organisation. Easily create your own Personality Questionnaires, powered by the Clevry Scales Library. Choose the personality elements you want to assess from a library of 46 attributes covering interpersonal style, thinking style, emotional style, motivations and culture-fit.
Our easy-to-use PQ builder enables you to create a bespoke questionnaire in minutes!
Intuitive candidate matching & admin
Clevry uses an overall suitability algorithm for candidate matching scores. From this, the Selection View give insight into the degree-of fit between an individual and the desired attributes of the job role.

Easily track the progress of your candidates through the entire assessment process. Stay in touch with your candidates through email and SMS notifications.
Full suite of assessments
Easily assess your candidates with a number of different psychometric assessments, including Personality, Ability, Situational and 360 Feedback.
From fully bespoke assessments customised to match your organisational culture and job roles to off-the-shelf assessments for when you need to select candidates quickly.
Generate tailored interview questions
Our reports clearly explain personality assessment and  cognitive ability test  scores to help interviewers and assessors by providing  strategic  interview questions to ask  candidates  and prompts based on their results. 
3-levels (professional, mid-level and blue collar) including tests of verbal, numerical, checking and mechanical reasoning abilities.
You choose the level of  cognitive ability test   appropriate for your assessment campaign and the type of tests you want to include.
Online verification of candidate results
Select candidates for verification of their online test score.
Clevry automatically selects a shorter sample of questions not yet completed by the candidate and calculates a verification score.
Assess style, emotions and values
Select relevant scales that match your company culture from across the Clevry Attribute Library to penetrate beneath behaviours and understand emotional style, motivational values and culture-fit.
Provide candidates with a seamless recruitment experience. Brand the platform and reports with your company logo, brand colours, role or process name, values, competency headings or success factors.
The Clevry assessments platform can be integrated with your existing ATS provider, job site and HRM system for seamless information sharing. Ask for API guides. Read more about our ATS Integrations.
Secure, accessible & GDPR compliant
We take data protection seriously. The Clevry platform is fully compliant with GDPR and ISO certified.
ISO certification can be checked by visiting the QMSUK website  here  and entering our certification number 291682018. The Clevry platform conforms to level "Double-A" of the W3C Web Content Accessibility Guidelines 2.0 to ensure accessibility for users with disabilities.
Compatible with accessibility devices such as screen readers and refreshable Braille.
Include the diversity data form in your assessment campaigns to gather equal opportunities information such as ethnicity, age and gender.
Sift & select for high volume recruitment campaigns
Ideal for sifting large volumes of applicants for the first round of recruitment campaigns. Powerful testing which enables you to identify high potential candidates at scale.
Our integrated video interview features saves you valuable time and  resource by allowing candidates to pre-record video interviews. Simply set your questions and let the platform do the rest.
Our online assessments incorporate gamified elements to make them more engaging for test takers. Clevry assessments include engaging business scenarios, motivational encouragement and test progress visuals. They also include candidate-friendly time limits to put candidates at ease when taking a test.
Psychometrically rigorous
Our  Personality Questionnaires  have been developed and refined through extensive research with organisations into business critical roles and are fully accredited by the BPS.
High scale reliabilities ensure accuracy and consistency. Validation research across a range of organisations and contexts conducted since 1996.
& see how the Clevry can support your recruitment