The complete guide to onboarding new employees.
Employee Onboarding
When a new employee joins your company, it's crucial to make them feel welcome and a part of the team so they can get off to the best possible start.
Hiring people can be a costly process both in time and money, so companies want to ensure their new hires have a good first impression of the business, their colleagues and their new role so they can hit the ground running and make the best possible start.
The key to achieving this is by having a good employee onboarding process that helps employees settle into their new environment so they can reach full productivity as quickly as possible. 
What is 

onboarding?
Onboarding is the process of welcoming and integrating your new employees into the workplace. 
More than a hasty orientation on the first day, effective onboarding starts before the individual arrives and continues until they fully adjust to their role and team. This process can take anywhere between a couple of weeks or several months depending on the role in question and is different from orientation, which is just the initial step of onboarding. 
Orientation focuses on introducing new hires to the basics of their environment, such as office layout, policies, and colleagues. Whereas onboarding is the entire process from start to finish. This may sound onerous, but finding the perfect candidate takes a lot of time, energy and money; failing at the last hurdle can cost a lot more.
In most cases, having no onboarding process will leave your new hires feeling bewildered, undervalued and disengaged. Leading to low productivity and higher turnover rates, the cost of poor onboarding can be significant:
Turnover rates of 50% in first 18 months of employment

Replacing lost employees costs between 30-50% of annual salary
By implementing a simple and well structured onboarding process, new hires are provided with the information and support they need to quickly achieve their full potential. Companies that take onboarding seriously often observe valuable changes:
Employees are 58% more likely to be with the organisation 3 years later


Employees were 54% more engaged in their roles

Employees gained full proficiency 4 months faster

75% of employees reported strong sense of loyalty to organisation
Why onboarding is important
Think back to your own experience starting a new job. If you didn't receive enough attention or guidance to begin with, then it likely affected your motivation, and probably stopped you from getting up to speed as quickly as you could have.
Unfortunately, this lack of support contributes towards up to 25% of new hires leaving their jobs within the first three months. High staff attrition rates are costly for a company, both financially and in terms of time spent on training and recruitment.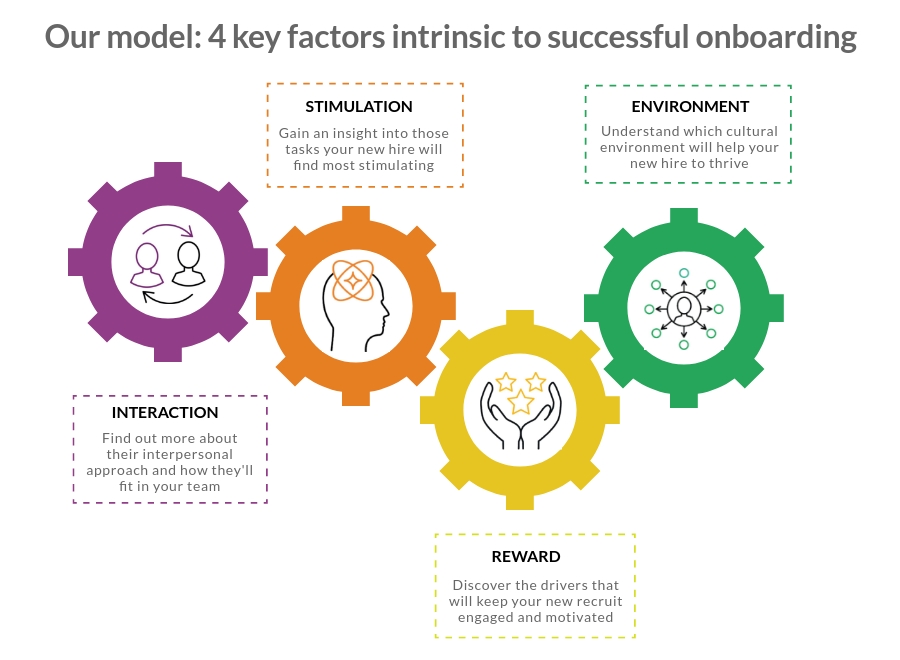 A good onboarding programme can help improve employee retention and ensure your new hires reach full productivity faster.
If new employees receive the necessary support, they will settle into their roles more quickly and start contributing value to their teams.
This is particularly crucial for remote employees, who face additional challenges in connecting with colleagues, as well as interns and graduates, who are new to the work environment.
Onboarding, however, is not just about policies, benefits, and training.
It's about creating a positive and supportive environment that aligns with your organisational culture.
A well-executed onboarding programme helps new hires to feel prepared and excited to be part of your team. It can also play a key role in helping companies to keep hold of their top talent in today's competitive job market.
Benefits of good onboarding
Hiring people generally requires a lot of effort, so it's important to get off to a good start and make a good impression to ensure your new employees stay for the long term and are able to thrive within your organisation. 
The key to achieving this lies in having a good onboarding process that helps employees acclimatise to their new work environment, get to know their colleagues and become familiar with the requirements of the role.
Companies that get onboarding right stand to gain several benefits:
A good onboarding process provides new employees with the necessary information, tools, and resources to start their new job with confidence, allowing them to get up to full productivity much sooner than those with no onboarding. 
Employees who experience a good onboarding process are more likely to feel engaged, valued, and connected to both their colleagues and the organisation. This, in turn, reduces attrition rates, saving the company both time and money associated with recruiting and training new employees.
Good onboarding helps your new hires to better understand the company culture, values, and mission. When employees align with the company's goals and find their work meaningful, they have higher levels of job satisfaction.
A good onboarding process creates a positive relationship between new employees and the organisation, helping them to feel motivated and more engaged in their work.
Good onboarding helps your new hires learn about internal processes, systems, expectations and company procedures. A well-designed onboarding process can significantly shorten the time it takes for new employees to become proficient in their roles.
Onboarding plays a crucial role in integrating new employees into the company's culture. When the onboarding process includes opportunities for socialising, team-building activities, and introductions to colleagues, new hires can quickly feel like they belong, contributing to a more cohesive and positive work environment. 
Impact of poor onboarding
The cost of poor on-boarding doesn't just affect your employees. It has huge impacts on your bottom line. Companies that leave onboarding to chance can often experience failure rates of up to 50% when it comes to retaining new employees.
Research by Glassdoor found that organisations with a strong onboarding process improve new hire retention by 82% and productivity by over 70%.
32% said they would have gotten up to speed faster if they'd had clearer goals and knew what was expected of them
A negative onboarding experience results in new hires being 2x more likely to look for new opportunities elsewhere.
What is a good onboarding process?
A good onboarding process can be the difference between new hires being left feeling overwhelmed and disengaged or thriving in their new work environment. Recruitment should not only encompass selecting the right candidate for the role but follow through past their first day for several months.
Good onboarding helps your new employees settle in their roles more quickly, familiarises them with the company culture, and helps set them up for long-term success. 
Here are some key things to consider when implementing a good onboarding process:
Remember, the focus of a good onboarding process should not only be administrative tasks but also look at the social and emotional aspects of starting a  new role.
Where possible, onboarding should be tailored to each individual, interactive, and designed to make them feel like a part of their new team and excited about their role.
Onboarding tips:

How to improve your onboarding process
Onboarding provides a great opportunity for employers to impart their organisational culture and values, as well as getting new hires feeling motivated and enthusiastic about their new role. 
By taking the time to ensure the following steps are taken, your organisation can set itself apart from the rest:
First impressions still count for something so try to ensure that their first day is well structured and they have clear responsibilities set out for them and aren't left wondering what to do at any point during their first day.
If their first day is to be a virtual one then it is absolutely vital their computer equipment is sent to them before they start.
For some, joining a new team can be daunting. Even more so if it's all being done virtually.
Make sure that each new person is introduced to all their colleagues and if possible, put some time aside for them to get to know each other in an informal setting.
Line managers play a crucial role in helping new employees settle, this is especially true in the cases of virtual onboarding.
Extend the onboarding process throughout their first year of employment, ensuring there are regular updates, feedback and informal meetings with management to praise progress and set new goals.
By setting goals for your new employees as soon as they join you can ensure that they know exactly what is expected of them, thereby reducing confusion and potential disengagement later on.
Our Onboarding Report provides tailored insights about each new employee, allowing you to provide adaptable inductions that fit their specific needs, rather than giving the same generic information to all new starters.
Welcome session

Employee handbook review

Initial orientation 

Mentorship programmes

Workplace tours

Technology setup

Introductions with colleagues & wider team members

Leadership/executive team meet and greet

Learning about job perks and benefits

Arranging an informal lunch with key colleagues and team members

Company and IT policy training

Getting your new hires acquainted with the company org chart

Goal setting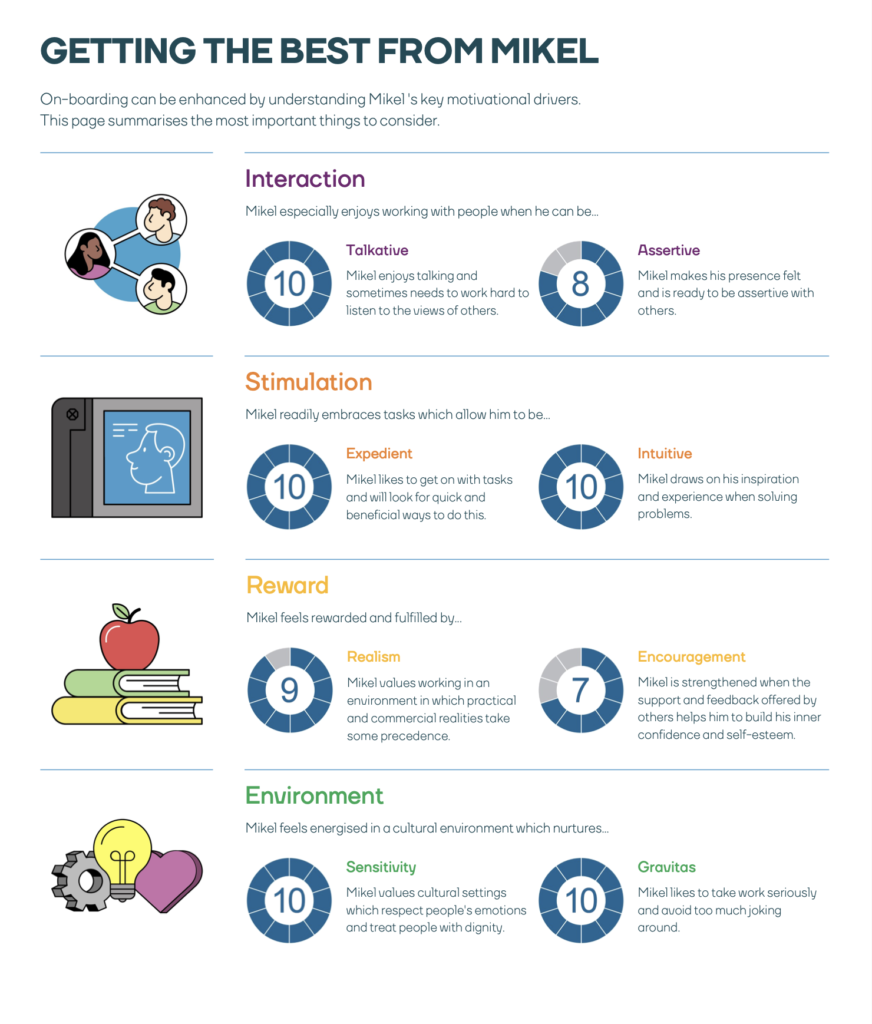 Most new employees decide whether they feel at home in a new job during the first three weeks of employment. Since the pandemic, the change in work for many means that these initial 3 weeks are now more important than ever. 
If you have hired new employees who will be spending several days each week working remotely then it's vital that your virtual onboarding process is engaging enough to keep your new hires feeling involved and part of the team when starting their new role.
What is virtual onboarding?
'Virtual onboarding' is the process of helping your new hires settle into their new role in a virtual setting. By providing your new employees a structured start, you help them acclimatise to their new role and give them the best chance for success. 
Good virtual onboarding requires a few more administrative elements than the standard, in-person onboarding process.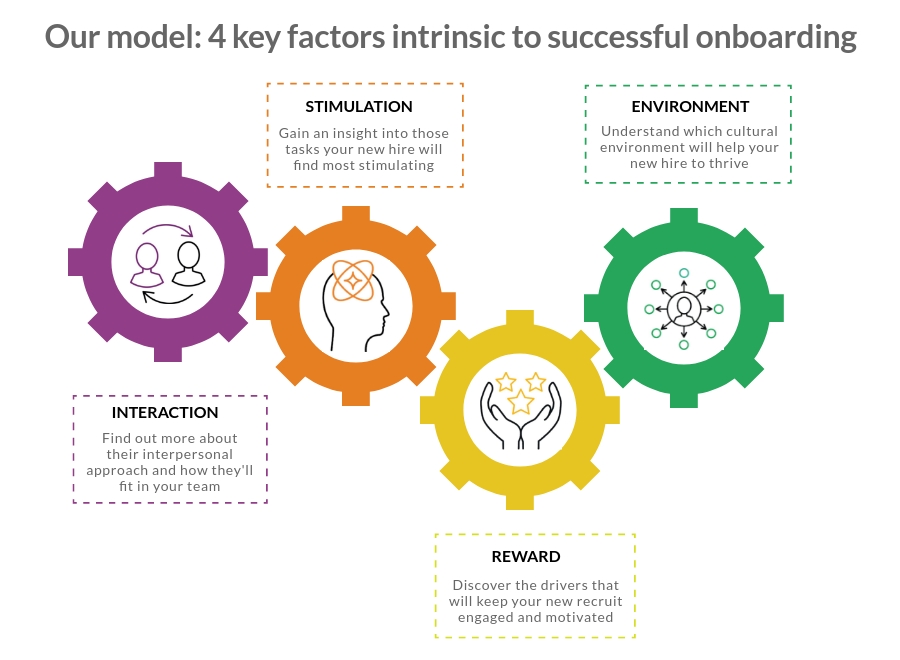 We've put together some key points to think about when onboarding new hires in a virtual environment:
Sending your new employees a written plan outlining their responsibilities, objectives and company strategy etc will help avoid any confusion about what's expected of them.

View this as an opportunity to clarify with the person exactly what it is they'll be doing and ask if they have any concerns or areas they are particularly enthusiastic about.
Complete admin ahead of time
Make sure that you have all of the necessary administrative forms completed before (or on) their first day so they can better focus on starting their new role.
Computers, technology & software
If your new hire starts their new role working from home then it's a good idea for the hiring manager to have a quick video call prior to starting to assess their workstation/area and make sure they have all the equipment they need.

Obviously if your new hire is remote then it is absolutely essential to ensure their work equipment is sorted out before their start date.

Make sure they have all the necessary equipment/stationery and that their computer and email accounts are ready to go. Don't forget to check they have all the correct software installed before they start the role
Welcome note from business leadership
One study found that adding a personal welcome note from a senior manager or company CEO can help improve first impression ratings by over 30%.

This is something that can be easily done in a virtual environment - either by recording a quick personal video message, or by sending out a personalised email welcoming the new employee.
While this isn't as important for remote employees, having a virtual tour of the office can really help make people feel more involved and a part of the team - even if they're not going to be in the office regularly.

Make sure you show them where to find tea, coffee and refreshments, toilets, the nearest fire escape, printing equipment and all other things health and safety.
Hold regular virtual one-to-ones
Ensure that the new employee's line manager sets aside an appropriate amount of time to get to know the new hire as soon as possible. This meeting should be a virtual conversation (using a camera where possible to help keep it human) with building rapport as its chief aim.

Topics covered should include; what is expected of the new employee, their feedback from the recruitment process as well as answering any questions. Make sure to book in another informal meeting in the near future to review how they are getting on.
It's important that the people who will be working with the new employee introduce themselves. Use an online calendar to book in some time for an introductory (and virtual) chat with each and every colleague for at least 10 minutes.
The majority of new employees (56%) report to want a mentor or buddy when they start. Assigning one of their colleagues to check in with the new employee regularly and be their 'go to' for advice can really help them reach full proficiency faster than if they were tackling projects alone.
It can be useful to gain feedback from your new employee, their colleagues and line manager (as well as direct reports if applicable) at several stages of the onboarding process. Ideally after 3 months, 6 months and 1 year.

These opportunities should be used to address any concerns that any party may have, as well as praise any accomplishments. Allocating specific time to discuss their personal development will make the new hire feel valued and supported.
Providing the new employee with all the necessary company information including dress code, holiday policies and company benefits will help avoid any uncertainty. This will make them feel more secure in their new environment.
Most importantly, take the time to find out how each new hire works best. Understanding their preferred working styles and accommodating these as much as possible will secure a seamless entry into your organisation.

Due to the current shift in working attitudes, good onboarding will now require a bit more effort on the part of management teams to help get their new hires up to speed in their first few weeks.

That's why we developed the Onboarding Report specifically aimed at helping hiring managers get the best from their new employees.
Introducing: the Onboarding Report
At Clevry, we use data and technology to bridge the gap between recruiters and their employees – this allows hiring managers to tailor their onboarding specifically to each new hire, meaning new employees start their role feeling more secure, motivated and confident in their ability to deliver.
Our Onboarding Report encourages a structured and insightful approach to onboarding. Generated from a candidate's response to a personality questionnaire, the contents outline their preferred working styles, motivations and interpersonal approach.
Providing line managers with bespoke advice, the report can be seamlessly incorporated into introductory meetings as a springboard for discussion and goal setting.
The report advises managers on how to best use an individual's strengths and preferences in the workplace, based on their responses to our questionnaire. This helps managers to maximise their performance and engagement so the new employee can get off to the best possible start, and helps to more seamlessly integrate them into your team.
What's in the Onboarding Report?
Interaction:
Learn about how the person is likely to behave as they get to know their team. Is there anything you could do to make this process as easy as possible? Do they prefer to work with others or alone? How might you best support them in social situations?
Stimulation:
Consider projects, tasks or responsibilities that the person is likely to find particularly engaging. How do they like to approach new projects? What is their preferred working style? What could you do to make sure they have access to this type of work?
Reward:
Think about how the person stays motivated. What will your role be in ensuring that they feel stimulated, how can you adapt it to their personality? How might you adapt your management/mentoring style, are they fulfilled by praise or varied work?
Environment:
Think about their preferences and how they fit into your organisational culture. What can you do to help them feel at home? How might you expect them to respond to changes in the work environment? Within what work contexts might they need some extra reassurance?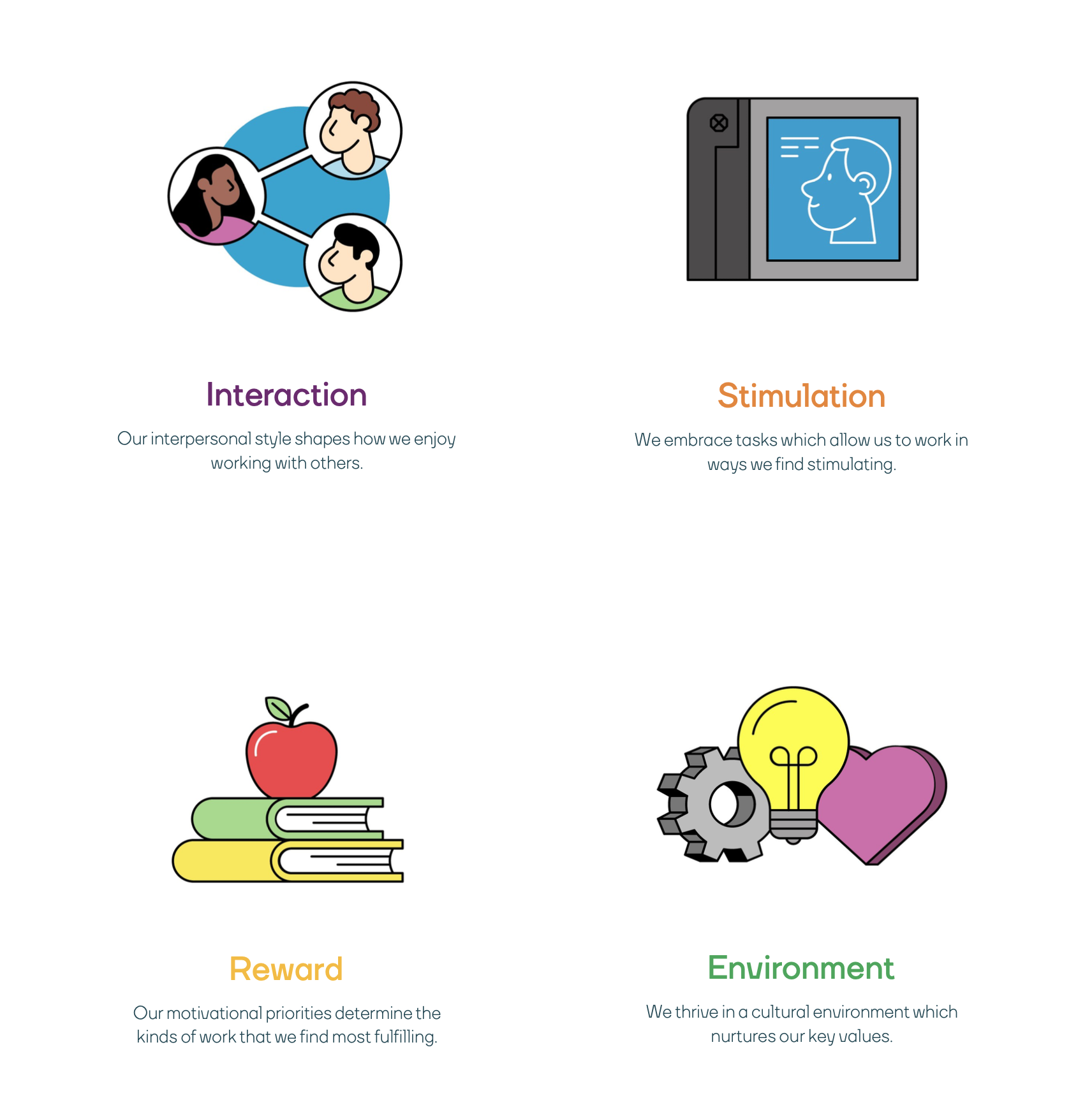 Read more about onboarding