Unleash your team's potential.
Team Building Workshop 
The Clevry team building workshop is a specialised development program built around Clevry's Team Strengths Model, aimed at helping team members gain a deeper understanding of their role, strengths, weaknesses, and the dynamics that drive effective teamwork.
Our team building workshop is aimed at people in HR or talent development functions who are responsible for developmental initiatives within their organisation, managers, team leaders, supervisors and people going into management.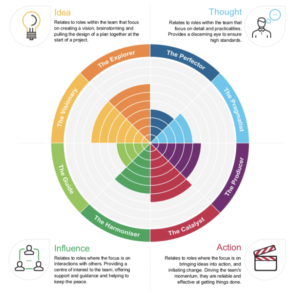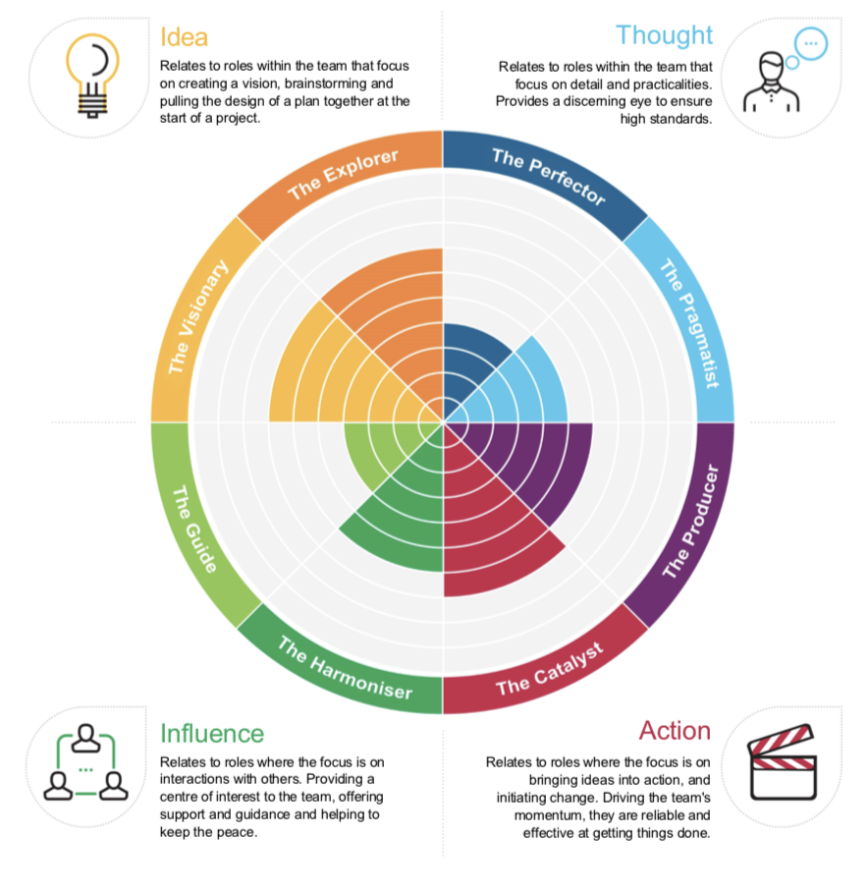 Team building workshop benefits
Our team building workshop offers numerous benefits for team members seeking to enhance their collaboration and overall performance:
The team building workshop provides your team members with valuable insight into their individual strengths and weaknesses within a team setting. Through activities and discussions, participants gain a deeper understanding of their unique contributions and areas for improvement.
This heightened self-awareness fosters better teamwork, as individuals become more conscious of their own behaviours and how they can effectively contribute to the group's success.
By gaining an understanding of their own strengths and weaknesses, as well as those of their teammates, team members develop a greater appreciation for the diversity of skills and perspectives within the group.
This increased understanding promotes empathy, compassion, and collaboration, fostering a sense of unity and shared purpose. Team members learn to leverage each other's strengths and support one another in areas that may require development, resulting in enhanced team cohesion and synergy.
Team building workshops emphasise the importance of communication within a team. Participants learn strategies for effective listening, expressing ideas clearly, and providing constructive feedback.
Improved communication skills enable team members to convey their thoughts and opinions more effectively, leading to reduced misunderstandings, improved problem-solving, and enhanced decision-making.
Goal setting and action planning
The workshop facilitates a shared goal-setting process among team members. Through collaborative discussions and activities, participants identify common objectives and define actionable steps to improve their teamwork moving forward.
This shared goal and action plan provide a clear roadmap for the team, fostering alignment and commitment to working together towards shared success.
Strengthened collaboration
Team building workshops create a supportive environment that encourages collaboration and trust among team members. Participants engage in team-based exercises, problem-solving tasks, and team-building activities that promote effective collaboration and cooperation.
By working together in a structured setting, team members develop stronger bonds, overcome challenges, and build a solid foundation for sustained collaboration and success.
Our team building workshops equip your team with a better understanding of their own (and their teammates') strengths and weaknesses within a team setting. This knowledge leads to improved cohesion, compassion, and appreciation for individual differences.
With a shared goal and action plan in place, team members can enhance their collaboration, communication, and problem-solving skills, driving overall team performance and achieving shared objectives.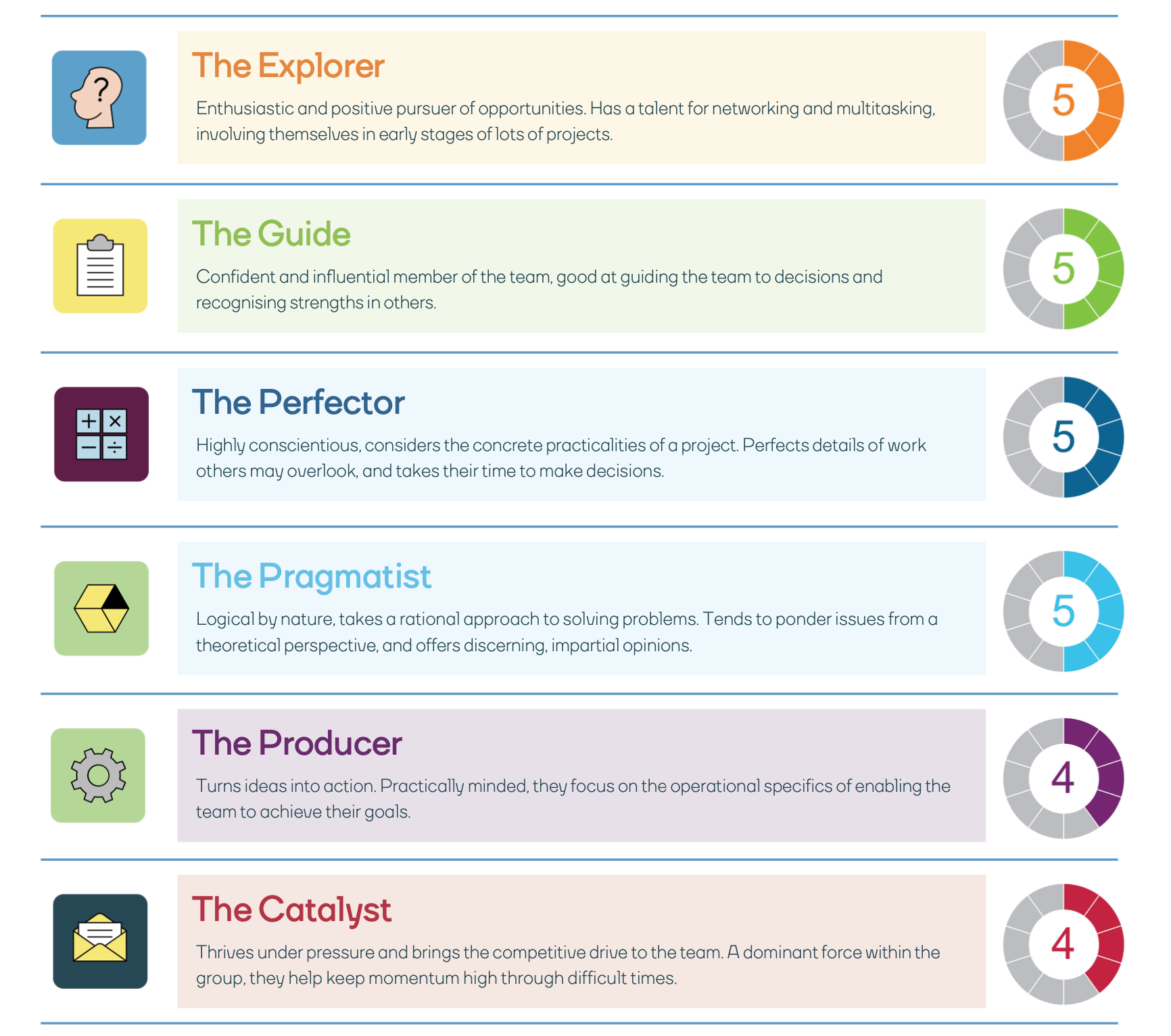 1. 
A Clevry Business Psychologist will arrange a call with the team lead to discuss their requirements and to investigate the current team dynamics. 
2.
Team members are then invited to complete a personality questionnaire in advance of the workshop. 
3.
The workshop features an icebreaker activity, a discussion on the importance of teams and typical pitfalls, a session on understanding your own strengths, an introduction to the team strengths model, an activity exploring each Team Strengths quadrant (idea, thought, action, and influence), a session exploring your report, a session on the distribution of team strengths among the team, and an action-planning session to finish.
Team building workshop overview
Participants will be guided through developmental activities designed to facilitate self-reflection on their personality preferences within the context of team dynamics.

The workshop was developed to address the need for more comprehensive soft skills development for people within their teams. Workshops can be delivered virtually or in-person and are tailored for up to 12 delegates, although larger audiences can be accommodated.

To enhance the learning experience, the workshop package includes PowerPoint slides, a 'Strengths Diary' for delegates to engage with during the session, and a comprehensive personality report.

Our expert Business Psychologists will lead the workshop, ensuring expert facilitation and impactful insights are gained by all.

In addition to the standard workshop, we offer a full-day training program designed to equip members of client organisations with the skills necessary to independently deliver the workshop. This option empowers clients to roll out the workshop throughout their organisation without having to rely on us for future implementation.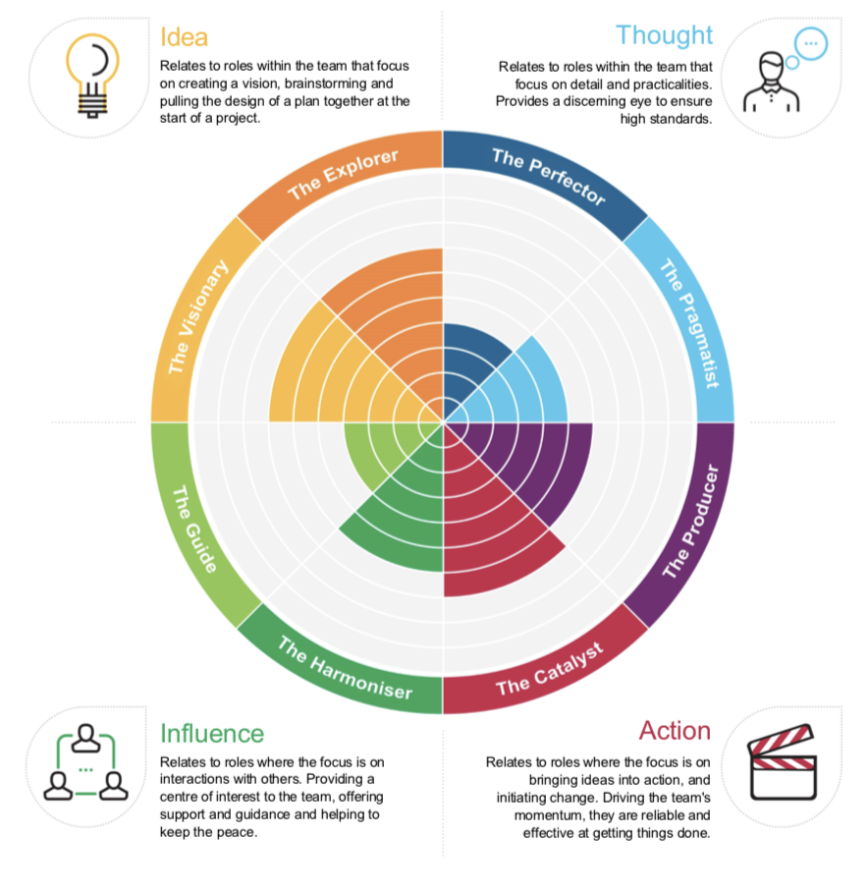 Standard half-day
workshop
(up to 10 delegates)
Understanding of team dynamics

Understanding your team type

Understanding your strengths and weaknesses within a team

Importance of teams and typical pitfalls

Strengths spotting interviews

Introduction of the Clevry team strengths model

Team strengths quadrants exploration activity

Analysis of team strengths distribution

Group action planning to improve effectiveness of the team
Standard half-day
workshop
(between 10 - 20 delegates)
Understanding team dynamics

Understanding your team type

Understanding your strengths and weaknesses within a team

Importance of teams and typical pitfalls

Strengths spotting interviews

Introduction of the Clevry team strengths model

Team strengths quadrants exploration activity

Analysis of team strengths distribution

Group planning to improve effectiveness of the team
Train the trainer
Full-day workshop
Full day training session to deliver your own workshops
One-to-one exploration discussion
1 hour with a. business psychologist to explore your Team Strengths Report in more detail*
Coaching sessions
For a Team Leader
3-5 coaching sessions to support the team leader to action the outcomes of the workshop effectively and consider the next steps