Make smarter decisions with our recruitment services
Get the best match for your job role with our soft skills-first recruitment process.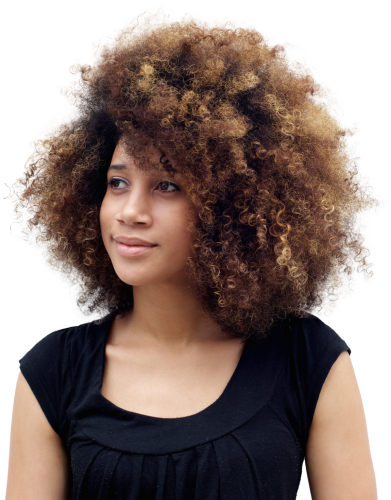 We pride ourselves in providing a truly skills-first recruitment process based on science, soft skills and skills suitability for the target job role. Our process includes expert candidate sourcing and marketing to deliver speed, industry-leading soft skills assessments to deliver quality, and interviews by our soft skills experts to help your decision-making by delivering their second opinion and suggestions.
High-quality soft skills assessments are at the core of our recruitment process – backed by over 30 years of scientific research on what correlates with success.
We don't just post open vacancies and wait for the applicants. Our dedicated team of talent sourcers contact active and passive candidates to ensure an adequate number of qualified candidates.
CV and educational background are poor indicators of job performance. Our skills-first recruitment process is based on evaluating the essential soft skills and hard skills to predict job performance.
" I have been impressed by Clevry's ability to find qualified candidates with the right competencies quickly. They understand the environment in which we operate and can provide the skills we need. I have been delighted with our cooperation and expect it to continue for a long time."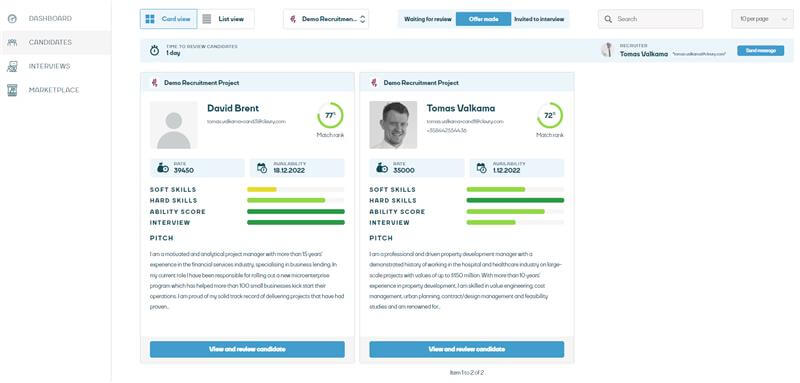 Smooth candidate presentation
No more searching through your crowded inbox for lost candidate presentation emails and links. As our privileged client, you can access our hiring manager module.​
You can effortlessly manage multiple recruitment processes, review candidate presentations and get immediate notifications whenever new candidates or messages arrive. ​
Our recruitment process is designed to make communication and decision-making simpler. Keep the entire history of your recruitment process in one place and directly message your recruiter for any additional questions or clarifications.

You can easily express your thoughts and feedback on candidate profiles, suggest and schedule interviews with your top choices, and even invite your colleagues to review candidates.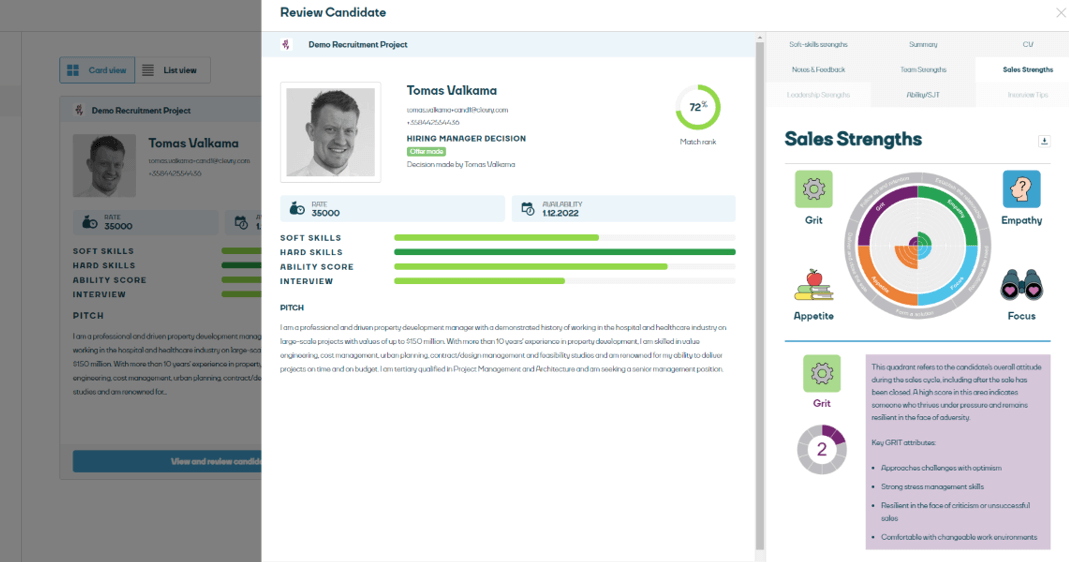 Our unique candidate presentation offers an overall match score for the role, based on their hard skills, soft skills, ability and interview scores, so you can compare candidates side-by-side with ease.
For more in-depth analysis, our candidate card includes recruiter summary, CV information and analysis profiles such as team strengths profile.
You get the same high-quality recruitment process for all our recruitment services. Decide the best option for you, or get in touch to discuss your needs, and we'll help you choose the best solution.
Our competency frameworks are fully integrated into our recruitment processes to deliver outstanding candidate service and help you find the best fit and make the right hiring decision.