What is the recruitment process?
The recruitment process starts with attracting new talent and ends with onboarding the right candidate for the role. To find the ideal candidate, recruiters must screen potential candidates, narrow down applicants, conduct interviews and finally decide who they will hire.
Many companies have an in-house recruitment manager, while others outsource their recruitment needs to an external company. In today's digitalised world, many companies even use recruitment software and online psychometric tests to find the best person for the job.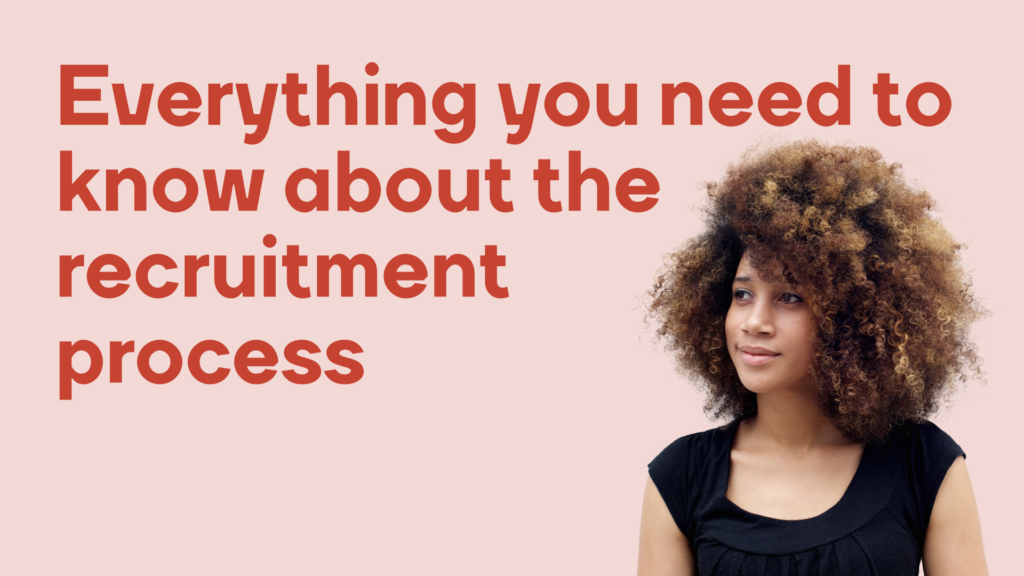 How a good recruitment process benefits your business
Recruitment agencies and recruitment managers work to quickly and efficiently find the best people for the job so companies can stay productive while waiting for a new starter to join the team. A good recruitment process can benefit your business in many ways, such as:
Saving time and money
Recruitment isn't just about hiring the right person. It's about ensuring you don't hire the wrong person too. Take hiring a new salesperson, for example. In the UK, 27% of people responding to a survey said that a bad hire costs more than £50,000.
But a well-organised, streamlined recruitment process helps companies find the best person for the job in good time. Although recruitment should never be rushed, the process should never take too long either, as being short-staffed can overwork current employees and may negatively affect company culture.
Finding the right person for the job
Finding the right person for the job is what many people think of when they think of the duties of a recruiter. Although there are a lot of talented and educated people out there, the right person needs the correct set of soft skills and must fit into the company culture. A candidate who fits into the company culture will have a better experience at work and will be less likely to leave, saving you money in the long run.
Increased productivity
The right person for the job will be able to fit in with the team, work independently, and be an engaged and productive member of staff. On the other hand, plucking out the wrong person from the talent pool will inevitably create stress for both the company and the candidate and will slow down productivity in the long run.
7 stages of recruitment
Of course, recruiting the perfect candidate is no small task and certainly can't be done overnight. When recruiting a new person, companies generally follow seven well-planned steps.
Step one: establishing hiring needs
As the Rolling Stones once sang, "If you try sometimes, you'll find, you'll get what you need." This is a good line to remember at the beginning of the recruitment process. Before placing your advert on LinkedIn or consulting an external recruitment company, think of the person you need to fill the open position.
What kind of personality will fit in with your work culture? Are they expected to jump right into the deep end and take on the role of an experienced employee who's just left, or do you have the time and resources to train someone with a lot of potential but little experience?
At this point, you must make a solid plan and consider many factors, such as the salary you can offer, the state of the economy, whether your company will likely grow or will have to make layoffs in the near future, etc. Whatever is going on both externally and internally, a poorly structured plan will result in a poor recruitment process. So always consider what exactly you need from your new recruit.
Step two: writing an effective job description
Now that you know what you're looking for, it's time to communicate your needs to a pool of potential new recruits. A detailed job description ensures the right people apply for the role.
Your job description will involve a lot of requirements and skills from a new candidate, but steer clear of turning your ad into a long-winded chunk of text that will send your potential golden candidate running to the next opportunity.
An excellent job description should clearly specify the role, include the right keywords, list your company's core values, feature a jargon-free list of duties, required experience and qualifications, some information about the department, who the potential new recruit will report to, desired personal qualities and a job location. You can choose to include the salary, but this is not essential. In fact, an increasing number of companies find it easier to ask the candidate to include their desired salary in their application.
Step three: casting a wide net
Don't let an awesome job description go to waste by publishing it on one platform. People often look for jobs on LinkedIn and recruitment sites, but people also find their dream role on more casual social media platforms like Facebook and Instagram. Asking your staff to publish the ad on their personal social media profiles goes a long way, too.
Make sure you don't rule out the candidates that sent you applications before you had a job opening, either. These applicants often find your company through word of mouth or by conducting their own research and might just be the best person for the job. Save open applications in your inbox and send a follow-up email to gauge the person's interest if it's appropriate to do so.
Also, remember that you might already have the ideal candidate working for you. Some people might have the skills to be promoted to the new position, some might be happy to be transferred to another department, and even people who've been let go in tougher economic times might be happy to come back and fill the role.
Step four: building the shortlist
Building a short list might seem like the easy part of the recruitment process. After all, you've now got a list of potentially awesome new employees to choose from. Unfortunately, the opposite is true. A survey of recruiters found that 52% of them found hiring the right candidates from a large talent pool the most challenging part of the job.
Thankfully, recruitment can be made easier by utilising cognitive ability tests, ATS, and psychometric testing.
Step five: conducting interviews
In this day and age, it's likely that the first interview will be conducted over Zoom, Google Meet or Teams. This is generally a more casual interview and offers a chance to get to know the candidate on a personal level and to share more details about the role and the company. It's also a way of eliminating unsuitable candidates and shortlisting candidates you want to take further.
Remember, interviews are a two-way process and also an opportunity for a candidate to shortlist or eliminate you. So make sure you sell the benefits of the company, show up on time, be nice and ask straightforward questions to help the candidate feel relaxed.
Check out our How to Interview Someone guide if you're interested in mastering your interviews to get the most from your candidates.
Step six: making the offer
Now that the ideal candidate has been decided upon, it's time to make the offer. This is normally the easiest and most enjoyable part of the recruitment process, but it's not always free of challenges.
If the recruitment process didn't move quickly enough, the ideal candidate may have given up waiting and moved on to different pastures. There could also be issues with salary offers and starting dates. If this is the case, you'll have to extend your offer to your second choice. However, someone who comes second out of dozens or even hundreds of applicants will likely be just as right for the job as the first in line.
Step seven: onboarding
Onboarding may be the last stage of the recruitment process, but it certainly is not the end. It takes around three weeks for most new employees to feel welcome (or unwelcome) in their new workplace, which explains why 22% of staff turnover happens in the first 45 days. A good employee onboarding process helps a new starter begin their career on a positive note, develop good relationships and understand their goals.

To find out more about successful onboarding, check out our Onboarding Report. It's based on individual responses to personality profiles to give supervisors personalised information, enabling them to provide the new recruit with a bespoke support structure.
The Bottom Line
An effective recruitment process can save organisations time, money and effort and ensure they hire the right person for the job. When you recruit the ideal candidate, you'll reduce staff turnover, keep the company running smoothly and make top talent feel welcome and happy in their new role.
However, when organisations follow a poorly planned and rushed recruitment plan, they'll often find themselves in a worse situation than being slightly understaffed.

So, if you need to find the right recruit for any new role, please do get in touch. With thirty years of recruitment experience, Clevry can help ease up the recruitment process and keep you and your staff happy.