cognitive ability tests. Regardless of what you're using them for everyone wants the same thing; a secure, easy to use assessment that measures what it claims to.
But, if you're in the process of implementing assessments, do you know what questions to ask the psychometric test provider?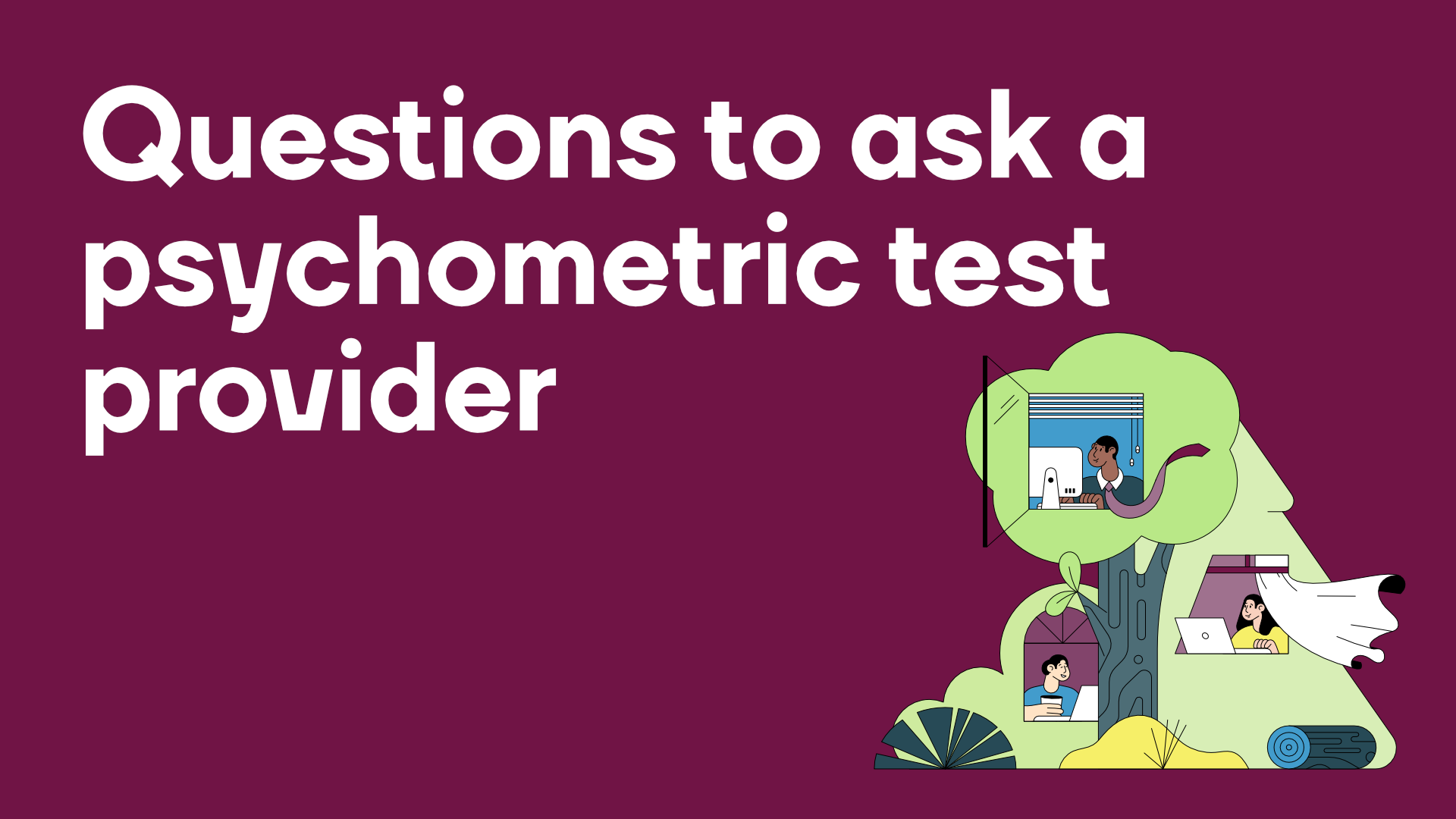 While your specific needs may change depending on whether you want to use assessments for recruitment or development, perhaps you have a preference for traditional over game-based assessments, or place candidate experience rather than cost-effectiveness at the top of your wish list. Factors such as this will all affect which provider you eventually chose.
But picture this; you've found a handful of providers that offer what you're looking for – and ruled out the ones that really aren't suitable. But what do you ask next? What are the best ways to find out if this provider is one you can trust?
First of all, it is important you can trust the assessments themselves, and the results they show.
Reliability & Accreditation
1. Are you or your assessments accredited by the BPS or a similar body?
2. What evidence can you show for the validity of your assessments?
Does the content of the assessment reflect the content or requirements of the job? Does the assessment measure what it is supposed to? Is the assessment predictive? Are the outcomes concurrent with established measures of personality?
3. How are your assessments scored?
Does the test have a large enough, recent, appropriate norm group?
4. What evidence can you show for the reliability of your assessments?
Can you provide evidence of internal consistency of your scale items? Are results reliable across different assessment sessions?
5. How are your assessments developed? What is the rationale behind them?
6. Do your assessments measure trait or type-based personality? What is the reasoning behind this?
Often, type-based models of personality aren't suitable for recruitment ans selection as there can be too much variation within one type.
Data Security
Next, you need to find out whether the platform is secure. Providers will be dealing with not only information about your company, but with candidates' personal data so it is important they adhere to strict data protection policies.
1. How do you exhibit GDPR compliance?
2. Do you adhere to any higher levels of data security?
3. How do you ensure THE anonymity of RESPONDENTS' data?
Experience & Practicality
Then lastly, will the platform be user friendly enough for you, your recruiters, HR team or whoever will be using the system? A system which is streamline and easy to pick up will save you huge amounts of admin hours. This goes hand in hand with the experience of the candidate. A platform which puts them at ease and makes assessments as enjoyable as possible will put your company in a positive light early in the recruitment process.
1. Are the assessments and platform accessible for those with disabilities and neurodiverse conditions? Can assessments be reasonably adjusted?
2. In what ways can you ensure the candidate has an engaging experience?
3. What measures do you take to ensure that assessments do not unfairly disadvantage certain groups?
4. What feedback can you provide to candidates upon completion of their assessments?
5. Does you platform have the functionality to integrate with other technology such as ATS providers? What ATS integrations do you have?
6. Is the platform easy to use? Or do the users require training?
7. What measures have been taken to ensure that candidates cannot fake their responses?
8. What is the user experience like from an administrative perspective?
9. Are reports (or other outcomes of completion) easy to understand? Do they provide valuable information for both the candidate and the recruiter?
If you are clear on what you are using psychometrics for, the answers to these questions will help you to determine whether the assessments, provider and platform are fit for purpose.
To find out some more about Clevry's psychometric soft skills assessments, head over to our contact page to get in touch. We're happy to help you.