Finding the right candidate assessment software for your organization can be a challenging task. With numerous solutions available in the market and new providers emerging, it's crucial to approach the selection process strategically. One effective way to gather comprehensive information about potential vendors and their offerings is by using a well-structured Request for Proposal (RFP). This article explores essential aspects to consider when writing an RFP for candidate assessment software to help you make an informed decision.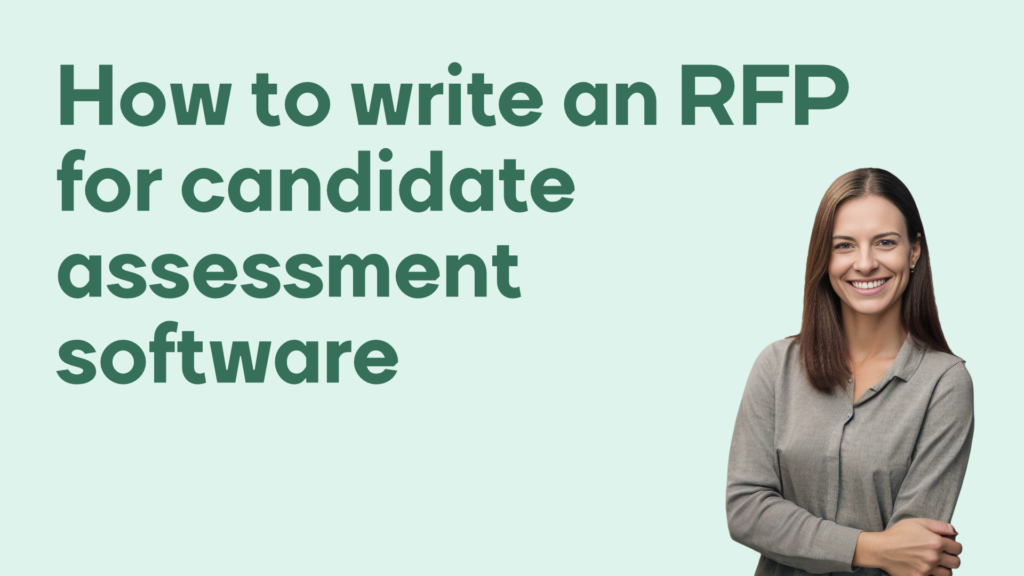 What is an RFP?
A Request for Proposal (RFP) is a document soliciting vendor proposals tailored to your organization's needs. Unlike a Request for Quote (RFQ), which primarily seeks price information, an RFP focuses on detailed information about the offered product or service. It serves as a tool to evaluate vendors and make an informed decision based on their responses.
What to include in your RFP for Candidate assessment software?
To create an effective RFP, it is crucial to be thorough and specific. By addressing your company's unique expectations and requirements, you can save time in the future. The best way to do it is to create a spreadsheet with your requirements and add columns for the vendors to fill in. It's helpful to categorize these into 'must-haves' and 'nice-to-haves'. Follow this step-by-step breakdown to create your RFP for candidate assessment software.
Define your scope and objectives
Clarify your project's scope and what you expect to achieve with the candidate assessment software. This could be streamlining the recruitment process, improving the quality of hires, reducing employee turnover, or all of the above. Defining your objectives early will enable potential vendors to align their proposals accordingly.
Detail your requirements
This is the core section of your RFP. Detail your functional and technical requirements clearly. This might include:
Functional Requirements: Identify specific functionalities you want in the software. For instance, psychometric testing, cognitive ability testing, personality assessment, video interview capabilities, virtual assessment centres etc.
Technical Requirements: Define the technical specifications such as data security standards, system integration capabilities, language options, scalability, accessibility, and mobile compatibility.
User Experience: Describe your preferred user interface and experience. The software should be intuitive and easy to use for both the HR team and the candidates. Ask what kind of feedback can be provided to candidates filling out the assessments.
Reporting & Analytics: Determine the reporting capabilities of the software. Consider the types of reports you require, including individual candidate reports, group analytics, benchmarking, and trend analysis. Ensure that the software provides actionable insights and meaningful data visualization.
Customization: Are all the assessments on the platform off-the-shelf, or can they be customized to specific needs? And if so, can users tailor the assessments themselves, or does it require consultation?
Vendor Qualifications and References
You want to ensure your chosen vendor is reliable and their assessments can produce consistent results over time. Ask vendors to provide their qualifications, experience, and industry certifications. Request references from previous clients, especially those in similar industries or of similar size to your organization.
Some of the qualifications and documentation to ask for include the following:
BPS Certification
Technical guide (validity and reliability)
Accessibility and neurodiversity
Implementation, training, and support
Successful software implementation can often hinge on vendor support. Thus, ask about their implementation methodology, timeframe, and resources required. Include questions about training (both initial and ongoing), customer support availability, and how software updates or upgrades are handled.
Pricing model
Last but not least, pricing is one of the deciding factors of any new purchase. Be clear about your budget and ask vendors for detailed pricing information, including the software license cost, implementation, training, and support. Make sure you understand whether the pricing is subscription-based or one-time and what, if any, additional fees may apply. Here's a list of helpful questions:
Is the pricing based on the number of candidates, or is there unlimited usage?
How many people can use the software with the subscription fee? Do additional seats cost extra?
Are there any discounts available for a long-term commitment?
Evaluate and shortlist proposals
Based on evaluating the proposals and vendor credentials, create a shortlist of the most promising vendors. Aim to narrow down the list to a manageable number, typically 2-4 vendors. Schedule product demos with the shortlisted vendors to see how the software actually works and feels.
Make the final decision
Once you've gathered all the necessary information and seen the product demos, it's time to decide which vendor to select. It's essential to involve key stakeholders and decision-makers in this process to ensure alignment with the organization's needs and goals. Ensure that the people using the software in their day-to-day get their voices heard.
After the contract is finalized, create an implementation plan with the chosen vendor. Set the timeline, allocate necessary resources, and schedule the product onboarding to ensure a smooth implementation process.
And finally, congratulations, you're now one step closer to taking your recruitment to the next level!
More resources: 18 Questions to ask a psychometric test provider