Integrate soft skills and hard skills into a visually appealing display to help increase your fill-rate, reduce presentation to placement time and make more efficient hiring decisions.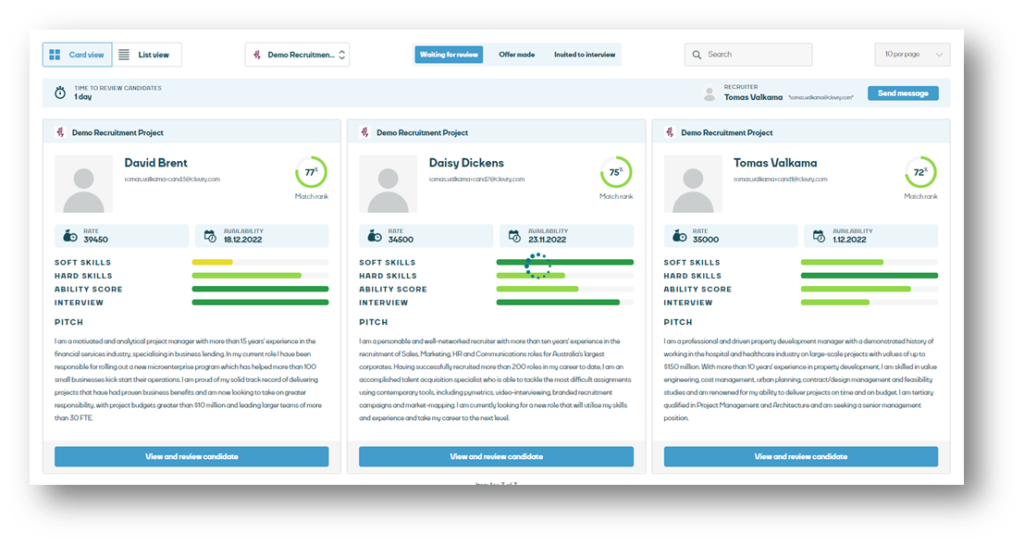 The problem with candidate presentation?
Outdated candidate presentation
Are you writing email presentations, copy-pasting interview notes,  Linkedin-links and attaching CVs and assessments reports by email? 
It is not only GDPR-unfriendly, it's time-consuming and unattractive.​
Manual candidate management processes
Candidates will often be sent to hiring managers via links in emails. If there are lots of applications or several batches of candidates it can be both a problematic and time consuming process.
High drop-off rates / attracting too few candidates
Does heavy assessment and recruitment processes scare away your already limited pool of candidates?
Integrating soft skills into the recruitment process
Recruiters can often struggle with combining soft and hard skills seamlessly into their processes. 
Assessing and presenting candidates to your clients should be easy!
Introducing the
Clevry way
Reduce candidate placement time
Reduced recruitment costs
Everything you need in one view
The Clevry platform integrates soft skills and hard skills into a visually appealing candidate presentation card.

Easily view key information about each candidate in a single area including assessment results, career history, cover letters, soft skills strengths, hard skills, recruiter comments and additional supporting attachments.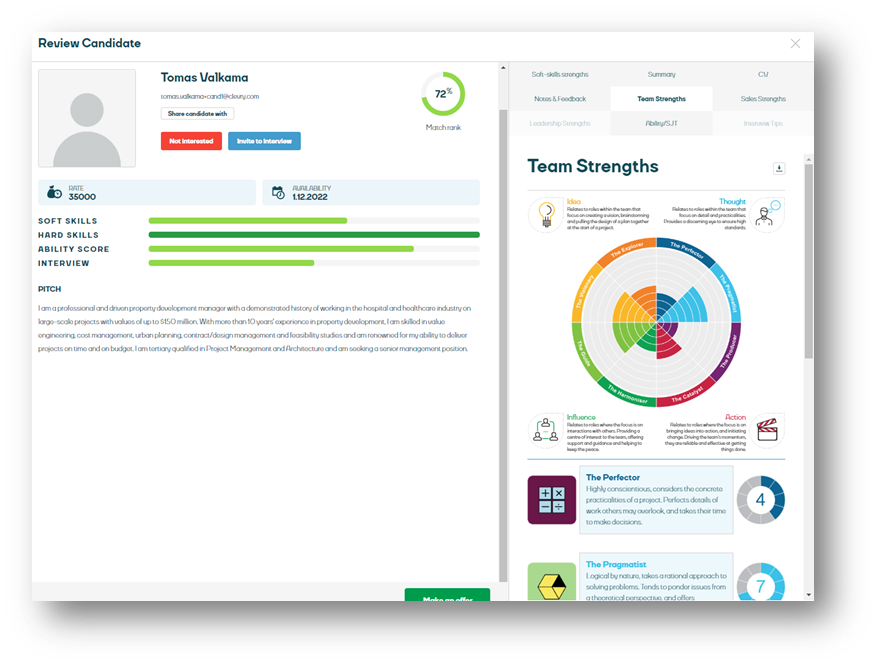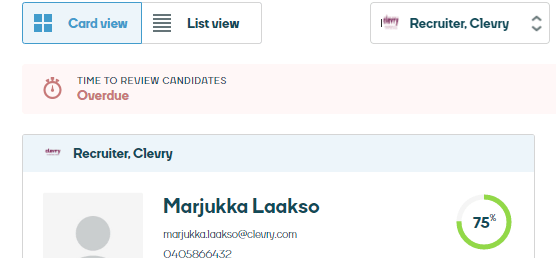 Automated candidate review reminders
Automated candidate review reminders so that you never miss another candidate. We know in recruitment that sometimes it can be difficult to react fast enough. We've added handy automated reminders so that you review your talent in time and don't miss out.
Compare candidates with ease
Easily compare your candidates side-by-side to ensure your hiring only the best fit for the role and your company.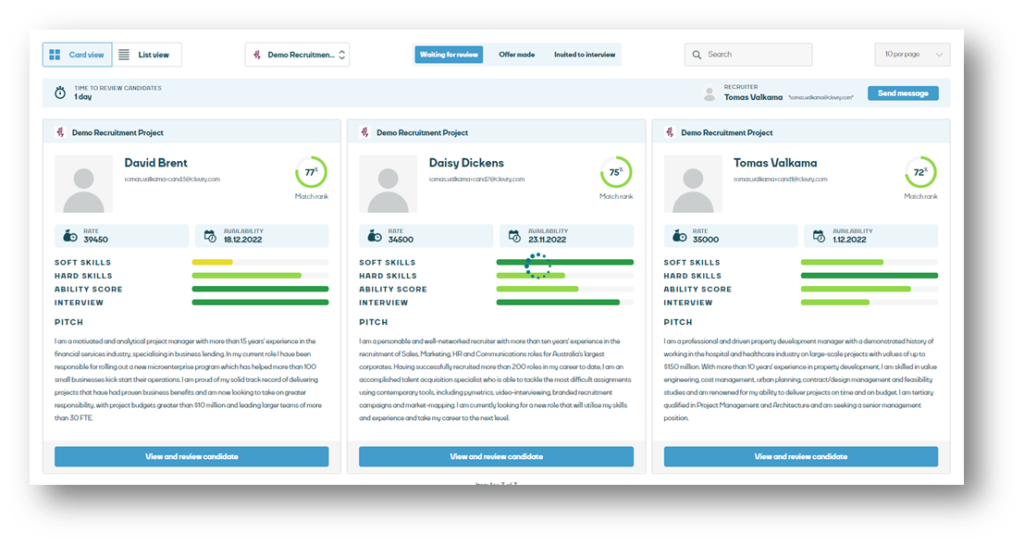 Know what your candidates want upfront
Quickly view your candidates' key information including, skills, career history, salary expectations and more. Have more transparent negotiations and save time.
Put candidates at the heart of your hiring
Candidates can communicate directly with their dedicated recruiter via in-app chat and can easily suggest and schedule interview times.

Recruiter and candidates get notified anytime there is new activity such as new candidates being presented, new chat comments, or updates to candidate status etc.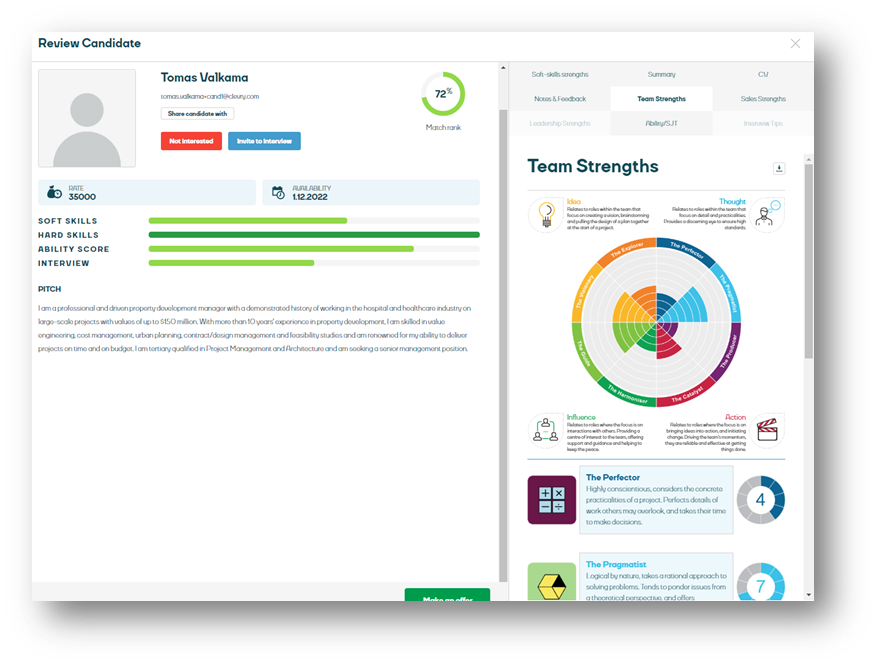 Share top candidates with your organisation
Don't let top talent go to waste. Have candidates who didn't quite make the cut but would be ideal for another role in a different department?
Assign multiple hiring managers to your projects and easily share your candidates across functions or with other managers.
Book a demo with Clevry to get an in-depth view of all the features and functionalities