The term 'psychometrics' can often get batted about when thinking about making new recruitment decisions, but what does it really mean? and why should you be using them?
In short, psychometrics refer to an objective way to measure attributes such as aptitude, critical reasoning and behavioural style. For a test to be 'psychometric', it must be standardised, reliable and valid, as well as consistent in its content, administration and scoring. This ensures the test is accurate and measures what it is supposed to, whilst avoiding the influence of subjective biases.
Psychometrics are often used to help employers identify the most suitable candidate for job applications or promotions based on the extent their cognitive abilities and personality match those required to perform the role.
The tests can be used in early stages of the recruitment process, before an interview to identify interesting discussions to be had, at a later stage, or for development and onboarding.
So now you know what they are, but what about why you should use them and what do they offer?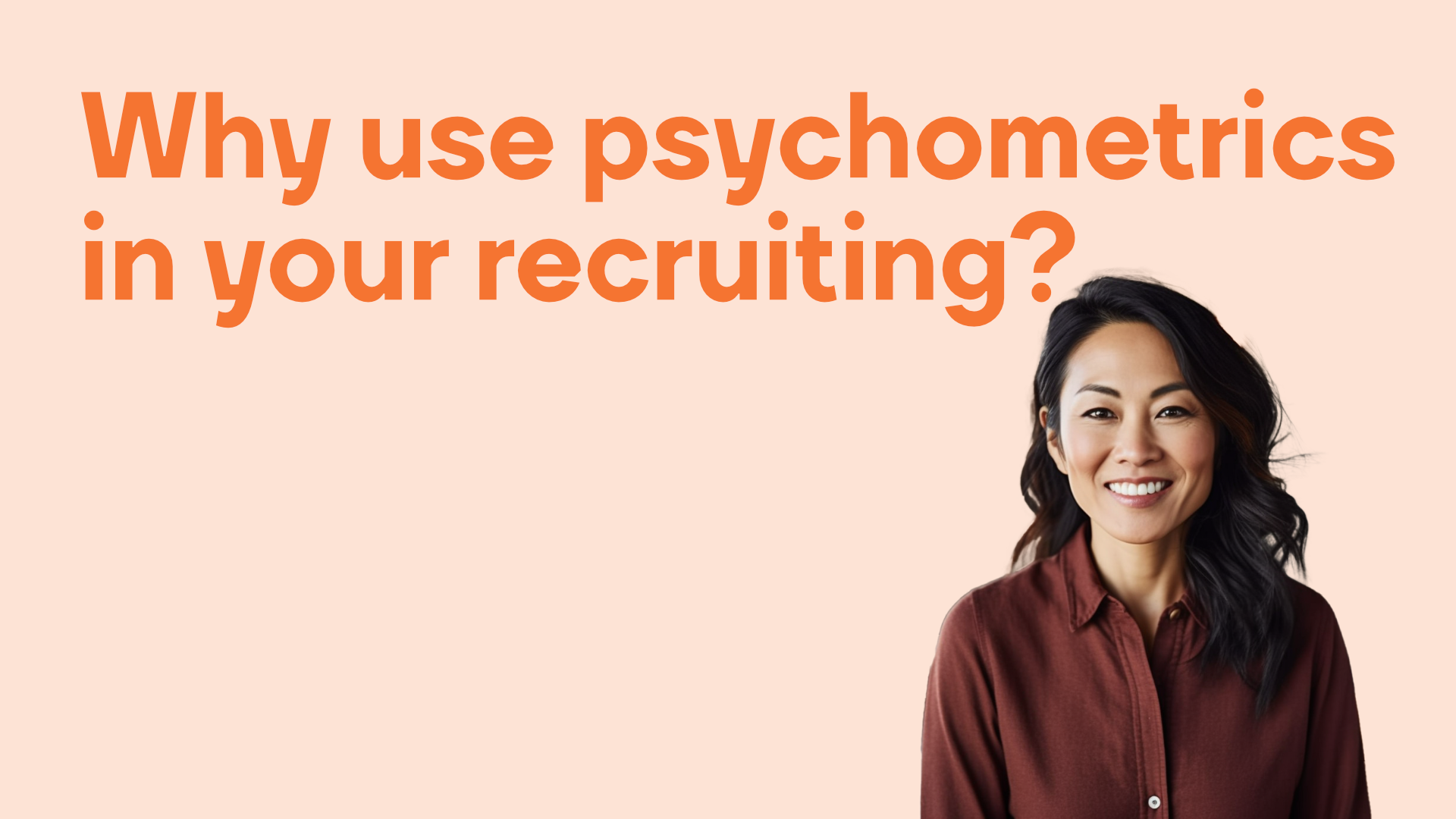 Information you can't get any other way.
Psychometrics capture the aspects of a person that you cannot pick up from a CV. Both hard skills (ability tests) and soft skills (personality questionnaires) provide a deep and holistic view of a person's behaviour and skills at work.
Reduce subjective bias.
Automated scoring algorithms eliminate human error and provide a fair and objective way of measuring candidates. All candidate data is compared to a large group of peers so that you can understand how their scores/answers compare to others.This standardised method ensures all candidates are treated equally.
Reduce recruiters/HR workload.
Candidates can sign themselves up, the results generate automatically and feedback reports can be sent out automatically too. The platform speeds up the recruitment journey at every stage, whether it's sifting, designing interview questions, providing feedback or matching profiles to 'what good looks like'.
Flexible customisation.
Our online assessments platform allows you to pick and choose from a library of scales to create a personality questionnaire that measures the traits that you are most interested in. You can also incorporate your organisation's branding by including your logo on the candidate journey and reports free of charge.
Predictive of future performance.
Psychometric assessments are the single most effective predictor of job performance available, outperforming all other commonly used selection methods such as interviews, CV:s and application forms.
Candidate friendly.
Our online assessment platform has been specifically designed to be friendly, engaging and intuitive.By creating an engaging recruitment journey, it is one of the first opportunities to impress candidates and attract the top talent. Research has also shown that candidates respond positively to the face validity and fairness of psychometrics; indirectly helping boost your brand image.
Developing your team.
The tools can be used for team and individual development as well as in the recruitment sphere. Reports such as the Team Strength Report is a great tool to use during team development workshops and away days.
Simulates real work scenarios.
Provide candidates with real work life scenarios to understand how they approach problem solving at work. Present the tests in our instant messaging assessment format (MessageMe), which adopts the form of an instant messenger to maximise candidate engagement and improve accessibility.
Find the right match.
Captures vital information about what motivates and engages your candidates. Crucial for matching the right people to the role, you can understand what drives your candidates and therefore place the individuals that will be a good fit. This leads to increased retention and engagement of new hires.
Save costs.
Psychometric testing helps lower recruiting costs and maximise your efficiency by reducing the risk of a bad hire. They also help reduce staff attrition rates and can help you to find candidates who often go on to become your top performers.
More than just hiring.
Use the results of candidates assessments during the recruitment process to make better hiring decisions, but also in the post hire phase with more specialised reports such as our Onboarding Report, which helps managers to get the most out of their new employees from the start.
Ongoing support & development.
Regular webinars, training library, blog and marketing collateral are all provided to support your use of the platform. As well as adedicated Business Psychologist to help you with implementation and ongoing support.
View the output from our psychometric assessments by downloading sample reports below.