As we settle into Autumn we thought we'd share a few updates that we've recently made to improve the my.clevry platform.

Customise Bulk Invite Email Invitations
This month we've added a new feature allowing you to customise the bulk invite candidate invitation emails. Previously, you could only do this for emails that candidates receive when self-signing up for an assessment campaign.
This update means you can now modify the email that gets sent out to Candidates in bulk invites, allowing you to add your own touch and communication style.
This feature is now live! You can modify your email when setting up your campaign, or if you already have a live campaign you can go into Advanced Campaign Settings to alter the invitation.
Downloading Reports
We are excited to announce that you will soon be able to download requested reports from your dashboard on my.clevry! We've listened to your feedback, and are happy to let you know that you will no longer have to rely upon receiving an email link for your report downloads.
This new feature is expected to launch later this month. You will see a new module on the righthand side of your dashboard called 'reports', which will look something like this: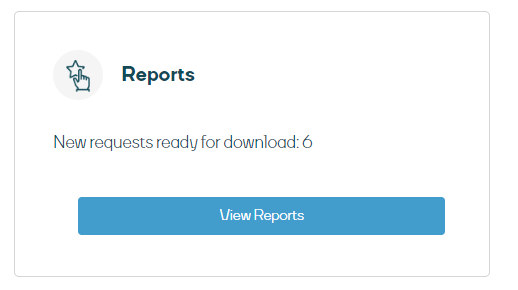 This is where you will be able to access and view all requested reports as and when they become available. Even better, you will also be able to see the reports requested by others in your team!
Sending Candidate Reports
We're also working on a new feature that will allow you to send reports directly to Candidates via the my.clevry platform. This means you will be able to send multiple reports in one go on request! With this function, you no longer have to rely upon downloading the reports yourself first and manually emailing them to your candidates. You also get to decide whether Candidates get sent reports straight after their assessments, or whether to hold off until a later stage in your assessment process.
You'll be able to access this new feature on the Candidates tab. Once a candidate has been selected, the right-hand menu will pop up, and you'll see a new option called 'Send Candidate Reports'. This feature isn't live yet, but we're expecting to make it available in November. We''ll keep you in the loop and let you know more about when these new features are available in our next newsletter.
Norm Group Updates
Clevry's Team Science has started work on updating all of our Norm Groups, across tests, levels, and languages! You might already have noticed some updates, specifically to our Swedish and English Ability Tests. As we continue to update these you might notice more and more popping up. We'll keep you informed in our next newsletter with our Norm Group progress.
We review our norm groups annually to ensure they are up to date, following best practice guidelines from the British Psychological Society and the European Federation of Psychologists' Associations. Norm groups updated within the last 10 years are considered to be of Excellent standard, and at Clevry we are proud to uphold such standards.
If you're interested in finding out more about our current norm groups please contact us at [email protected] where one of our team will get back to you.
Your Feedback
As always, we'd love to hear your feedback so that we can continue to bring joy to you all. If you have any thoughts or comments on any of our services or platforms, please take a moment to fill in the form below. We want to hear what works for you, what brings you joy, and what we could do better to improve your experience!
We're also particularly interested in hearing about your thoughts related to collecting more Diversity related data! If you're interested in having some analysis conducted regarding diversity, please do get in contact with your Customer Success Specialist, or at [email protected] and we'd be happy to help.