The world of work has rapidly changed since the start of the decade, which is why HR professionals and recruiters must stay up to date with new trends and transformations within their industry. Luckily, there are many guides to help sharpen your industry knowledge and even learn new skills. In this article, we'll share fifteen recruitment and HR blogs that will keep you on the cutting edge of your profession.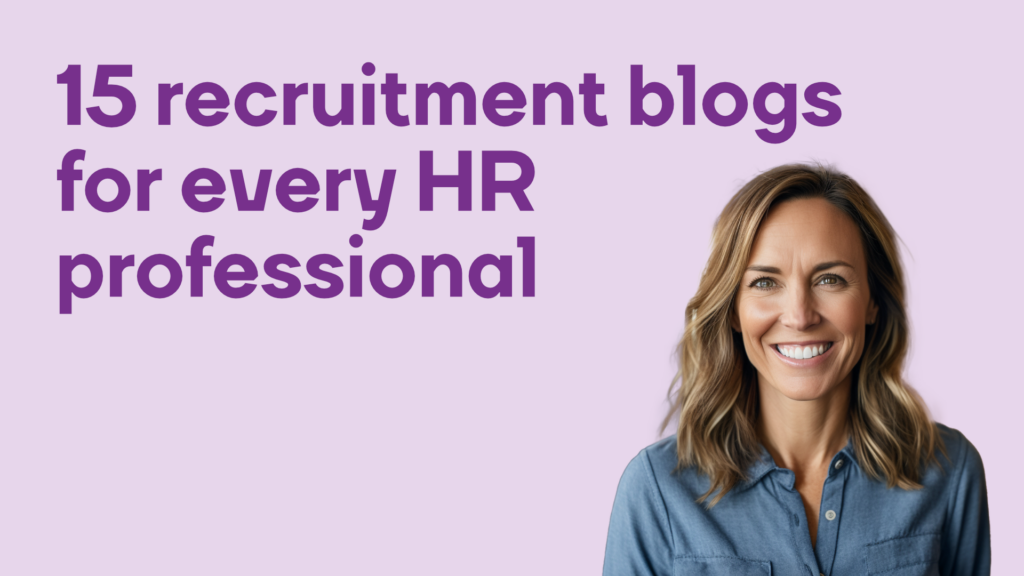 1) Recruiter Magazine
Recruiter Magazine is a British magazine available online and in print and has its fingers on the pulse of the recruitment industry. The website offers entertaining and informative podcasts, webinars, and white papers and even includes advice articles written by expert recruiters. You can read interesting and informative opinion pieces written by recruiters with various backgrounds and knowledge of various sectors in the industry.
2) Undercover Recruiter
Undercover Recruiter is a user-friendly website that focuses on a variety of topics, from employer branding to talent acquisition. The website also includes a podcast that offers recruiters and HR professionals practical tips on talent attraction and employer branding strategies. What's more, you can read interesting case studies about internationally recognised companies such as Unilever and Mars.
3) ERE
ERE is one of the best-known recruitment blogs around. It's tailor-made for professionals working in the recruitment sector and includes helpful webinars, event information and even training resources.
4) SourceCon
SourceCon is one of the best recruitment sites for industry-related news and information. The site has an active community page, and a training academy with over 22 hours of video-based lessons that teach talent search techniques, sourcing methodologies, and candidate engagement strategies.
5) Blue Octopus
Blue Octopus is a perfect read for any recruiter or HR manager with a busy schedule. The site includes short and snappy blog posts filled with valuable information and covers a range of industries from manufacturing to retail, hospitality, leisure and much more.
6) The HR Capitalist
The HR Capitalist takes a lighter look at the HR industry and offers visitors an entertaining and enjoyable read. The site focuses on real-world situations and shares insights and information on the best practices in HR.
7) TalentLyft
TalentLyft has been rated as one of the world's leading HR blogs and is a great resource for HR professionals and recruiters to stay on top of industry trends and best practices. The site offers a range of resources such as eBooks, webinars and even tutorials.
8) Harvard business review
The Harvard Business Review is a globally famous must-read for every HR professional. HBR includes a huge range of topics, the latest industry news and HR strategies and provides useful advice. The blog is written by an esteemed mix of thought leaders, company leaders, academics, and more.
9) HR morning
HR morning is essential for HR professionals to stay up-to-date with current industry affairs. The blog is written by experts who boil down huge amounts of information and hand-pick the most interesting and useful material to provide you with the best content. The site features advice on topics such as employment law, recruiting, talent management, HR technology, performance management and much more.
10) Human Resources Executive
Human Resources Executive is another esteemed site focusing on current affairs and strategic information in the HR and recruitment industry. The site is dedicated to topics such as HR technology, leadership, and talent management and even includes helpful webinars. Human Resources Executive also offers a weekly summary of tactics for finding and keeping top people, as well as an analysis of the effects of AI and tech on the workplace.
11) Human Resources Today
Human Resources Today provides blog posts written by thought leaders, as well as webinars, white papers, eBooks and guides. The site also covers issues such as change management, talent acquisition, staffing, diversity, hiring and more. You can sign up to Human Resources Today to get daily and weekly newsletters delivered directly to your inbox.
12) SHRM
SHRM (The Society for Human Resource Management) is written by experts in the field and is one of the most useful websites in the industry. The blog offers business leaders and HR professionals a view of workplace trends and the latest insights into the industry. All the blog posts are written from a first-hand perspective by HR authors.
13) Talent culture
The Talent Culture weekly newsletter is written by innovative HR professionals with extensive knowledge of business and HR technology. The site features a podcast and resources ranging from eBooks to HR guides and HR webinars led by innovators and analysts.
14) Lattice
Lattice is ideal for people who want to lead highly developed and high-achieving teams. The site includes a resource library packed with advice and information to help HR managers create a strong and healthy work culture where employees are happy and productive. You'll also find helpful articles, newsletters, podcasts, eBooks and much more.
15) Gallup
Gallup has over 85 years of experience in the field. It's the ideal site to visit to solve problems and understand employee behaviour and attitudes. You can sign up to Gallup to receive insights and knowledge directly to your inbox, and you can also visit the website for information on events, consulting expertise, the latest industry news and much more.
The bottom line
There are a lot of HR and recruitment blogs out there that will help you sharpen your skills and stay up-to-date with the latest trends in the industry.
And, if you're looking for more advice about soft skills in the workplace, building leadership skills, engaging your employees with team building workshops, and more, check out our blog page today.