As we get ready to step into 2024, the world of recruitment is at an intriguing crossroads. The pandemic has undeniably been a game-changer, catapulting us into a digital era where our traditional face-to-face hiring strategies seem like relics of the past. Remember the days when gut instinct played a dominant role in our hiring decisions? Well, they're becoming more and more of a rarity.
In this brave new world of virtual work, technology is gaining more and more prominence. The days of relying solely on gut-instinct are fading, making way for data-driven decisions that redefine the art of recruitment.
In this article, we'll take a look at some of the key recruitment stats from 2023 to take into 2024, guiding you through the latest emerging trends that will empower recruiters and HR professionals, to navigate this evolving landscape with confidence and precision.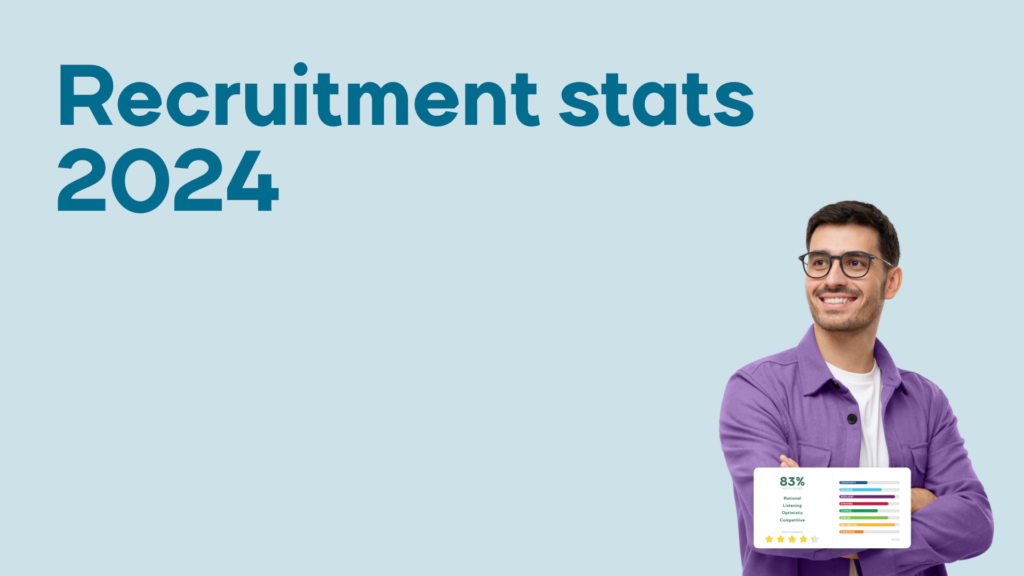 Global recruitment statistics 2024
One study by Gallup found that low engagement costs the global economy $8.8 trillion annually. That's 9% of global GDP! (Gallup)
Share this:
92% of employers surveyed by Monster said they were planning on hiring in 2023, a number that was consistent with the previous year (Monster)
44% of workers globally said that they experienced a lot of stress the previous day, repeating the record high that was recorded in 2021 (Gallup)
Share this:
42% of employers said that employee salary expectations have increased significantly (Monster)
51% percent of currently employed workers said they are watching for or actively seeking a new job (Gallup)
Share this:
One Gallup analysis found that engaged employees require a 31% pay increase to consider taking a job with a different organisation, while unengaged employees, on average, want a 22% pay increase to change jobs (Gallup)
30% of new hires leave within 90 days (Forbes)
Share this:
46% of employers said that gaps in an applicants CV are acceptable (Bluemoon)
More employers than ever before have made flexiwork a permanent feature of employment, with 46% of those surveyed saying they now work flexibly compared to 21% in 2021 (Workable)
Share this:
77% of workers say they'd accept a job without visiting a physical office (Forbes)
53% percent of employees in 2022 said now is a good time to find a job where they live, a sharp increase from the 45% recorded the previous year (Gallup)
Share this:
24% said their employers introduced hybrid work during the pandemic and this is now a permanent strategy (Workable)
73% of workers said they planned on taking on additional work in order to increase their income (Monster)
Share this:
69% of employees would choose one job over another if it offered better benefits (Aqord Wellness)
45% of employees say they are feeling burned out by organisational changes in 2023 (Forbes)
Share this:
50% of employers said that candidates need to be better at articulating their skills (Monster)
51% of workers surveyed by Monster believe their work well-being is more important than a salary increase (Monster)
Share this:
Over ⅓ of workers say they think about quitting their jobs multiple times per week (Monster)
26% of workers said they would rather get a root canal than go back into the office 5 days per week (Monster)
Share this:
20% of workers would quit their job if they couldn't work from home (Forbes)
53% of managers said that flexible work options have helped them retain their best talent (Monster)
Share this:
31% of HR leaders feel negatively about artificial intelligence making hiring decisions (Forbes)
Companies plan to reduce office space by 30% over the next year (Forbes)
Share this:
34% of recruiters believe that the worker skills gap has increased compared to a year ago (Monster)
UK recruitment statistics 2024
According to one Workable study 68% of UK workers are currently in full time employment (Workable)
Share this:
In the same Workable survey, 66% of UK workers surveyed said that salary & compensation was the major attractor to a new job, a large increase from the 53% that was recorded in 2021 (Workable)
37% of those surveyed said that career development opportunities were the main attractor of a new job (Workable)
Share this:
33% of those not working state 'health priorities' as the main reason they are not at work (Workable)
One study conducted by FireFish Software found that the 3 most important factors, according to recruitment leaders, for UK candidates were compensation (74%), hybrid working (68%) and personal development and career progression (66%) (Firefish)
Share this:
USA recruitment statistics 2024
A Workable survey found that 69% of people in the US are now in full time work – a sharp increase from the 55% that was recorded in 2021 (Workable)
22% of US employees say that they are actively seeking new employment (Workable)
Share this:
The number of people working for themselves fell from 10.4% in 2021 to 6.2% in 2023 (Workable)
38% of those surveyed said that job security would attract them to a new opportunity vs 32% in 2021 (Workable)
Share this:
Monster's Work Watch Report highlights that 92% of U.S. businesses plan to recruit in 2023. Despite economic headwinds, 96% of recruiters are confident (44%) or very confident (55%) of finding the right worker (FutureofWorkHub)
Sources:
https://www.gallup.com/workplace/349484/state-of-the-global-workplace.aspx
https://get.workable.com/workable-survey-report
https://media.monster.com/marketing/2022/The-Future-of-Work-2022-Global-Report.pdf?_ga=2.262419724.1819028675.1651830083-756649818.1651830083
https://www.futureofworkhub.info/allcontent/2023/1/20/2023-monster-work-watch-report#:~:text=Monster%27s%20Work%20Watch%20Report%20highlights,of%20finding%20the%20right%20worker.
https://learnmore.monster.com/monster-work-watch-report
https://www.forbes.com/advisor/business/hr-statistics-trends/
https://blog.firefishsoftware.com/hubfs/Recruitment%20Industry%20Reports/Firefish%20-%20The%20Future%20of%20the%20Recruitment%20Industry%20Report%202023.pdf