What are decision-making skills?
Someone with excellent decision-making skills can quickly and effectively make a judgement by evaluating the information at hand while considering the short and long-term consequences of their decision. 
Good decision-makers make small yet important choices that shape daily working life, such as scheduling a meeting, but can just as easily make big decisions such as who to hire and how to handle company money.
In this article, we'll talk about the importance of decision-making as a soft skill and how you can show your decision-making skills during the recruitment process.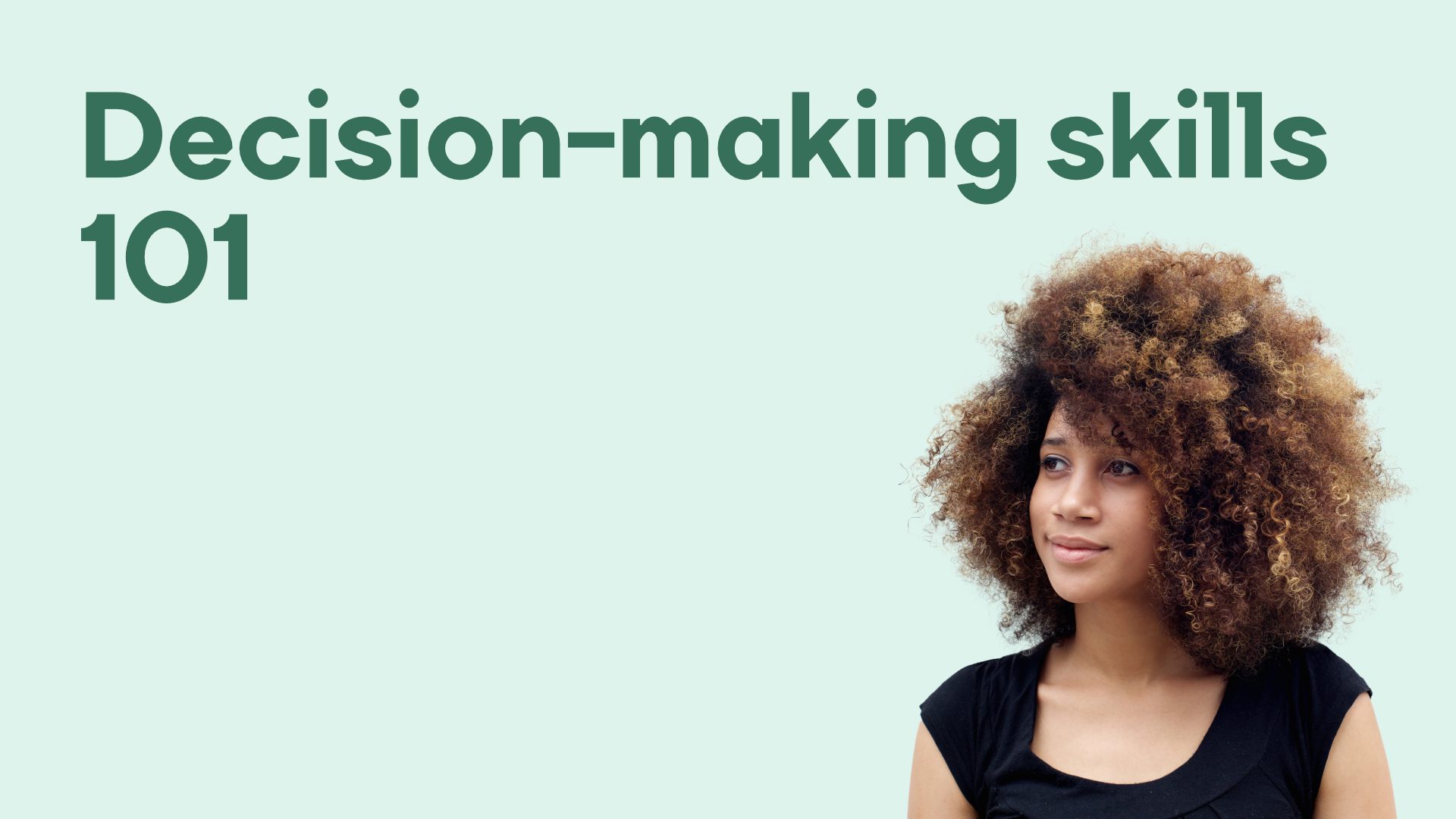 Decision-making skills in the workplace
Companies are eager to employ people with excellent decision-making skills. Decision-making is an overall skill created from many other vital skills such as problem-solving, reasoning, leadership, creativity, emotional intelligence, time management, and organisation. 
However, according to a McKinsey & Company survey, only 20% of respondents say their organisations excel at making decisions, while the majority say much of the time they devote to making decisions is used ineffectively. With this in mind, it's a good idea to show off your decision-making skills while applying for a job.
How to show decision-making skills on your CV 
Everyone from a new starter to the CEO makes daily decisions, so highlighting your decision-making skills on your CV is essential for landing your next job. To help you along, we at Clevry will share how to highlight your skills on your CV and how to explain them during an interview. Here are a few power words that will help you communicate your skills to a potential employer.  
Problem-solving skills
People with problem-solving skills can recognise, evaluate, and address issues. They can break down large problems into bite-size chunks to find solutions and calmly make decisions that positively impact employees and the business as a whole. 
Analytical skills 
Analytical thinkers can collect, gather, visualise and analyse information to make quick and effective decisions. Analytical thinkers excel in many professions, such as engineering, finance, business, science, and technology.
Leadership skills
Leadership soft skills are an umbrella term for many essential abilities, like being an excellent communicator, problem-solver, delegator and planner. All these skills are fundamental for making effective decisions in the workplace.
Organisational skills
People with strong organisational skills can efficiently plan and prioritise workloads and simultaneously oversee several activities. Effective decisions that move a company forward are rarely made when people are overworked and stressed. But someone with an organised mind can think clearly, oversee the ramifications of their decision and ensure a positive outcome.
Creative skills 
Someone with a creative mindset fuels innovative thinking, increases productivity across an organisation and can be excellent decision makers. Creativity helps employees make decisions by coming up with out-of-the-box ideas to tackle complex issues. They tend to experiment with new ways of working and often subconsciously connect various thoughts and knowledge to make good decisions. Instead of concentrating solely on what has previously been successful, a creative person considers a wide range of options and potential solutions to a problem.
How to display decision-making skills in an interview
So, now you know how to illustrate decision-making skills on your CV, it's time to look at proving your skills during an interview. Here's an example of three typical interview questions and answers to help you along.
Decision-making skills: Interview questions and answers
"Describe a situation when you had to make a tough choice."
Interviewers ask this question to figure out how you solve problems and consider various situations to make the best decision.
Answer:
When I was an intern at a PR firm, I played a big role in setting up a meet and greet that current and potential clients and investors would attend. A day before the event, I telephoned the catering company to confirm what time they'd arrive at the venue. Unfortunately, the person at the catering company had not passed the original order over to the chefs, so the company did not have the food or drinks available.
As a young intern, I worried that my boss would think I'd made a mistake. However, I needed to keep a clear mind during the crisis, so I focused on getting the food to the venue.
I spoke to the chefs, who said they could only get the order ready about an hour before the event and would be unable to deliver the food as planned. I agreed to this new schedule over the phone and wrote down the name of the person I spoke to.
 After the phone call, I told the management team what happened, as I felt that hiding the truth would be unprofessional. I informed them that the issue had been resolved and explained that I would personally collect the food from the restaurant and drive it to the venue before the event began.
"How do you make decisions while working in a team?"
Interviewers ask this question to evaluate how well you collaborate when making decisions and if you can sense the effect your decision has on other people.
Answer:
I believe that any decision that affects the lives and work of my teammates should be shared and brainstormed with everyone involved, as I believe this makes people feel valued. 
During the covid pandemic, I sensed a negative shift in morale and a change to our previously healthy and close-knit company culture. I knew the reason was that the entire team worked from home, and the only interaction we had was in business meetings.
I wanted to avoid our team drifting apart, and I believed spending 30 minutes a day for a quiz on Zoom would be a fun way to start the day. Before setting up a meeting with the entire team, I messaged my manager privately to see if she was happy with my idea. She gave me the go-ahead, and I set up the meeting.
My main objective was to ensure something designed for fun wouldn't add an extra half hour to everyone's workday. I was also aware of some of my teammate's other responsibilities, both in and outside of work. I set up a meeting to share ideas and listen to any concerns on the topic.
In the end, my team and management agreed that the morning "pub quiz" would be completely voluntary. If someone had a tight deadline or needed to take care of something in their personal life, they could politely decline without having to give an explanation. The quiz proved to be very popular, and I feel that it helped maintain our company culture.
"Do you recall a time when you had to take initiative while making a decision?

"
Companies ask this question to judge your leadership skills and take responsibility for an issue without being asked to do so.
 Answer: 
Upon graduation, I found a job at an exciting new bookshop, which I felt had the potential to grow faster than it was. The owners were both in their early 60s and had received generous redundancy packages from the company they'd worked at for decades. Neither of them felt ready to retire, so they opened a bookshop on a busy street.
But sales were slow. The general public was unaware that the bookshop sold everything from the latest novels to early editions of modern classics. I told the CEOs how much brand awareness they could create on social media. They were sceptical about my idea but said they might pay someone who's "good with computers" to make some Google adverts.
In this situation, I knew it was best to show rather than tell. So, one weekend, I created a Facebook Page called "Hooked on Books," which attracted many people. Over the following four weeks, it became a busy Facebook community.  
My bosses were thrilled to see what I had done and gave me permission to manage the Facebook page and create a WordPress website, which enabled them to sell books online.
The bottom line
Decision-making skills are an essential ingredient for success in any role. So don't hide your soft skills away. Always add them to your CV, and check out how far your soft skills can get you by visiting joy.clevry.com.