Dolly Parton's famous lyric "Workin' 9 to 5, what a way to make a livin", has lost some relevance in today's professional world. In 2020, the global pandemic beckoned a new era of remote working, and, for many, rushing to the office by 9 am became a distant memory.    
Nearly half of employees worked remotely during the pandemic, but as the world returns to "new normal," the number of remote workers still remains higher than in the pre-COVID days. Before the pandemic, 30% of employees worked remotely. Now, in 2023, that number has risen to 48%. What's more, 62% of employees now expect their employers to allow them to work remotely from now on.
This huge increase in remote working can bring some big opportunities for large and small companies alike. In this article, we'll discuss how embracing change and hiring remote workers will drive your company forward in this new world of work.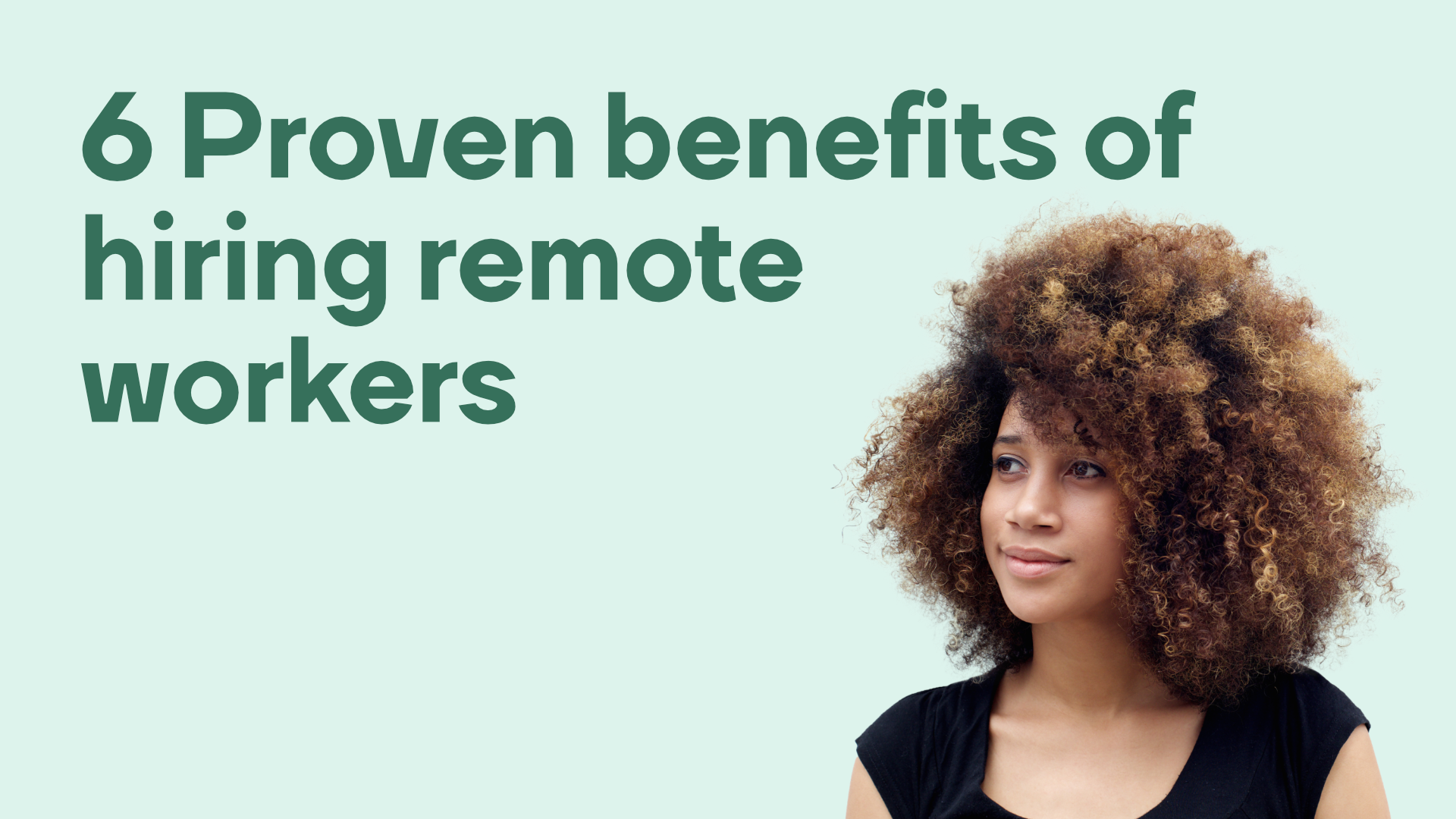 Benefits of hiring remote workers
Remote workers are more productive
Remote workers are very busy bees indeed. 38% of employees report feeling most productive when working from home and may even apply more time to their work than they would in the office. Many remote workers are also so happy to work from home that a whopping 50% would be willing to take a pay cut if it meant not being chained to an office desk. Remote workers also report feeling less stressed, which is great for employee retention. 
Remote workers are less likely to quit
According to Forbes, 42% of employees have, at some point, quit their job due to stress. Two of the biggest reasons for this are poor work-life balance and poor relationships with coworkers, an ailment that's remedied by remote work. 
WFH research found remote work can reduce quit rates by as much as 35%. A similar study conducted in 2021 showed that 75% of employees felt that working remotely would make them less inclined to leave their employers. 
You'll have more talent to choose from
The standard combined daily commute for the average Brit is 59 minutes, with Londoners averaging almost one and a half hours. No wonder so many people love working from home. 
But commuting isn't just an employee's problem. For business owners, commuting time can be the difference between hiring the best person for the job and hiring a fairly decent candidate whose biggest skill is getting through rush hour. You could be based down in Brighton while someone who can transform your business is twiddling their thumbs high up in Edinburgh. But in this post-covid world of Zoom meetings and Slack catch-ups, you can cast a wider net and catch the biggest and brightest fish swimming in the talent pool.  
Lateness is greatly reduced
Every day, millions of workers face unpredictability while traveling to the office. Back in 2012, staff lateness in the United Kingdom was reported to cost the economy the princely sum of 9 billion pounds every single year! Thankfully, rush hour traffic and public transport delays are not an issue for a remote worker. After all, they don't need a bus ticket to get from their living room to their home working desk to start a stress-free day.      
You'll save yourself a lot of money
Office space is expensive. In the City of London, business owners can expect to pay £70 – 82.50 per sq ft on rent. That's expensive enough for a large business, but these prices can cripple an ambitious startup filled with potential.  
But rent is only half the story. Water, electricity, internet, and even maintaining the tea and coffee supply in the office kitchen puts a pretty big dent on the company credit card. 
But remote workers once again come to the rescue. While working from home, they pay for their own tea bags, electricity, internet, mortgage or rent. Even when they splurge on cake and beer at the end of the week, your wallet won't get any thinner.  
Remote employees take fewer sick days
British employees take an average of 4.6 sick days a year, which is pretty low but adds up in the long run. Many workers who take sick days with colds, coughs and flu-like symptoms mostly do so to prevent infecting their much-loved colleagues. This likely explains why 70% of employees continued to work while feeling under the weather during the pandemic. After all, it's easier to work from a comfy and warm bed while looking awful than it is to work around people while trying to look and act your best. 
Know your candidates better with Clevry's Soft Skill Assessments
Ok, so we know that both employees and employers benefit greatly from remote work, but that doesn't mean it's the best option for everyone. It's a good idea to check how well-suited your candidate is for working in a remote environment. 
We at Clevry have a number of psychometric assessments that can  help recruiters to better spot candidates who are most suited to working in a remote environment.
The bottom line 
It's clear that remote working is the way of the future. The statistics show us that the majority of employees are happy to continue working remotely, while large and small companies alike benefit from reduced costs, a larger pool of talent, heightened productivity and a lower turnover rate. 
Check out Clevry's assessment platform to find out more or let us do it for you with our  recruitment services.