Ability tests are used to measure a candidates cognitive ability. The results from ability tests show recruiters how a candidate has performed in comparison to a diverse group of other candidates. This allows organisations to more easily gauge and assess the traits that correlate with success in a specific role, make better recruitment decisions and hire more efficiently.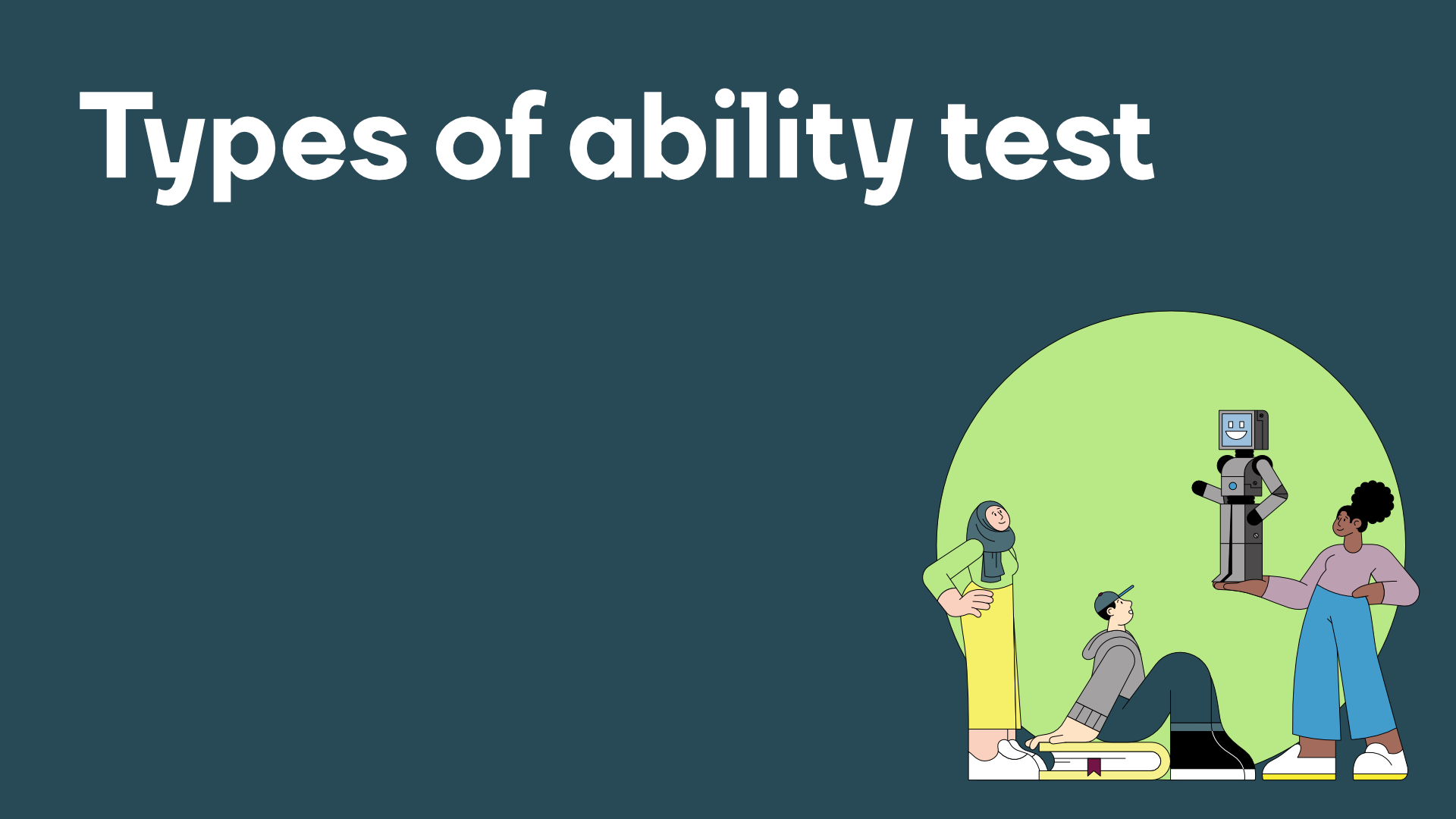 Types of Ability Test


Verbal ability
This test measures high level verbal critical reasoning, requiring candidates to comprehend and evaluate meaning using precise logical thinking.
Results from verbal ability tests have been found to be predictive of performance in roles that require regular use of verbal reasoning skills; for example analysing and making judgements about complex written material in things such as reports, proposals, letters and emails or other documents.


Numerical ability
Numerical ability tests measure high level numerical critical reasoning, they will require candidates to analyse and manipulate numerical data.
Results from numerical ability tests have been found to be predictive of performance in roles that require numerical reasoning; such as working with analytics data, understanding and manipulating numerical information, working with financial data or performing cost calculations.


Checking ability
The Checking Test is designed to assess the candidate's aptitude for spotting errors in information.


Mechanical ability
The mechanical ability test is for roles where candidates will need to work with and understand mechanical information or technical concepts.
People taking a mechanical ability test will need to show understanding of and be able to apply basic principles of physics to mechanical devices. Candidates will be presented with illustrations of mechanical processes such as gears, pulleys, levers and hydraulics and have to work out the correct answers.



Abstract ability
An abstract ability test measures high level abstract reasoning, and will require candidates to work out rules or laws from a series of abstract diagrams. This test is designed to measure a candidate's ability to identify and manipulate logical patterns found within visual information.
Results from abstract ability tests have been found to be predictive of performance in roles that require the demands of abstract reasoning; such as working with complex data or concepts and applying asystems thinking approach to identifying relationship patterns and trends in organisational data.
Clevry's suite of Ability Tests
Clevry ability tests come in 3 levels; Essential – CWS, Enhanced – B2C and Expert – Utopia, with each containing a number of psychometrically rigorous tests.
All of our ability tests can be mixed and matched to help business leaders tap into those skills critical to your organisation and delivering success within specific roles.
Essential – CWS
Our suite of Essential tests were designed primarily for blue collar, manufacturing/warehouse environments and public utilities. Assessments in this suite are more suited to organisations which have a strong Production/Engineering focus. Within this industrial sector, these assessments are relevant to a range of role types such as:
Hourly paid operatives

Semi-skilled employees

Apprentices

Team leaders

First level supervisors
Our suite of CWS tests have been designed to be appropriate across a broad range of difficulty levels. This means that they are suitable for the assessment of a range of individuals; from those who have no educational qualifications to those who have achieved A-levels or post-school Diplomas/Certificates. Candidates above this level (e.g. graduates) are likely to require tests which are different in nature, as well as difficulty, in order to reflect the responsibilities of the jobs for which they are being considered.


Enhanced – B2C
B2C Business Challenges has been developed for a range of applications. The assessments in this series are relevant to a range of occupational groups. They may be applied to various roles in which business administration skills are needed. This may include but is not limited to:
Junior managers

Customer service staff

Call centre staff

Sales people

Administrators

Personal assistants

Secretarial assistants


Expert – Utopia
The Utopia series consists of high level critical reasoning tests. They measure abilities which are particularly relevant to the performance of:
Graduates

Managers

Professionals

Specialists