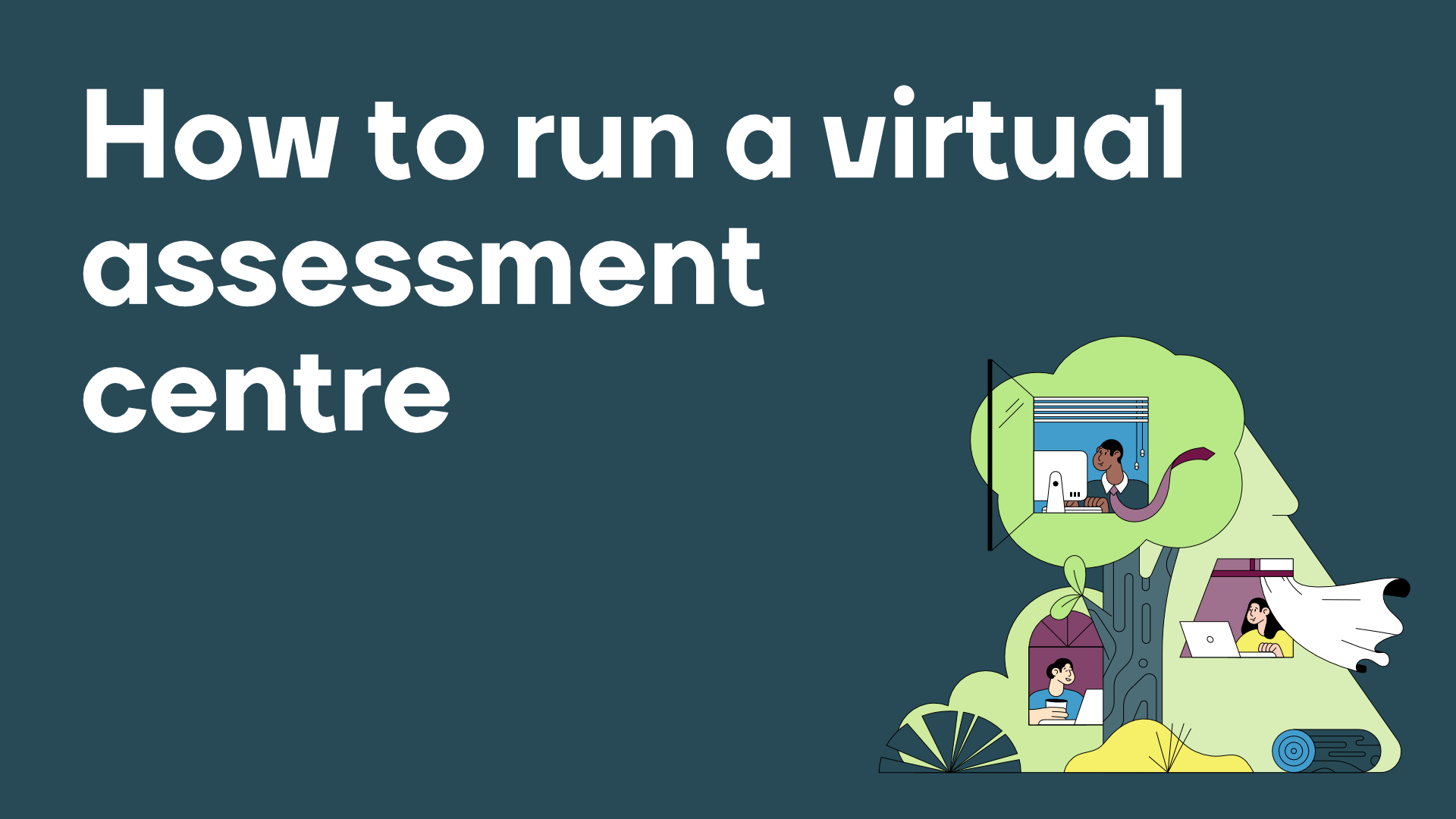 Over the past couple of months (and for obvious reasons), we've received a large number of queries about how to move away from traditional forms of assessing candidates, and transitioning to a virtual assessment centre format, or at least having a more digitally focused way of assessing candidates in an assessment centre scenario.
For most recruiters and HR teams (when life is normal), delivering a Digital or virtual assessment centre means carrying out activities and exercises that would normally be delivered in-person (face-to-face) with a group of candidates via a digital system, which removes the need for having large numbers of candidates gathering in the same room.
For those opting to take a virtual assessment centre approach, we've put together some of our top tips for running a virtual assessment centre to help you ensure your digital or virtual assessment process is as robust and effective as it can be.
Be Clear:
In a situation where people's ability to travel or interact with each other is restricted, you will (obviously) be less able to facilitate candidates from one activity to the next. Try to ensure any guidance you send to candidates before the day clearly explains what they need to do and when. We recommend sending a full preparation guide before the day, outlining what will happen on the day, and how they can do their best.
Choose your technology and practice:
Skype, Zoom, Google Hangouts, Walkie Talkies, Smoke Signals???
How you choose to go digital is up to you. But whatever avenue you choose, make sure everyone involved practices using the software beforehand to minimise the risk of experiencing a technical glitch (which will happen at some point – they're inevitable).
We recommend holding a quick 5 minute check-in session with the candidate beforehand to minimise technical issues on the day and to make sure everything is running smoothly.
Check-in with candidates first:
Before you start your virtual assessment, put in a short call with the candidate to go over what will happen, and answer any questions they might have. This gives you a chance to make sure your candidates are in a relaxed and comfortable environment, where they will not be disturbed.
Keep it short(er) & sweet(er):
With no physical interactions or moving around between activities, we advise that you keep your digital assessment centre event as short and engaging as possible to minimise square eyes and restless legs.
Aim to have two or three activities (including interview) in your digital assessment centre, lasting no more than 3 hours, with built in breaks.
Provide a facilitator hotline:
You should always have one individual dedicated to overseeing the event- candidates and assessors can reach out to them (over an online chat function or phone) at any time, and in case of emergencies.
Switching it up:
For an Assessment Centre to be robust and effective it is important to rotate assessors across candidates, so no single assessor makes an overall judgement of a single candidate. It might take you a bit of setting up, but you can follow this same principle when moving your assessments to an online environment.
Maintain best practice assessor standards:
Using digital assessment centres should not impact on the quality of your assessments. We recommend following the ORCE process (observe, record, classify, evaluate) when acting as an assessor to ensure a fair and objective judgement of candidates.
Get creative to fill the gaps:
Consider what competencies you might not get to see in candidates by removing the physical element of assessments, and try to think of other ways you could assess these traits using a digital approach.
Increase upfront sifting and minimise attendees:
Whilst we know assessment centres are a great way for you to get to know your candidates (and for them to get to know you)… ask yourself, is there a better way for you to make your selection decision?
Research shows us that a variety of alternative methods, such as ability testsor situational judgement tests, are both highly effective in assessing an individual's suitability for a role.
Think about group size:
The reality of delivering assessment centres virtually is that some exercises are easier to deliver than others. One of the key factors that complicate things is delivering an exercise to a large group, as you might do in a face-to-face group discussion exercise.
Whilst we wouldn't necessarily advocate removing group discussions from your assessment centre altogether, if they allow you to assess competencies that are difficult to tap into another way, we would recommend taking a pragmatic approach. For example, rather than delivering group discussion exercises with 6 candidates, you could consider a smaller group and reduce the timings accordingly.
Psychometric assessments:
Psychometric soft skills assessments are a great way to uncover useful information about your candidates' personality, style and approach, without having to meet them face-to-face.
Certain assessments also have the ability to generate a personality tailored interview guide, which could be used to delve deeper into a candidate and find out more about them through a one-to-one discussion.
Be prepared for technological mishaps:
Even with the greatest will in the world and perfect preparation, the reality is that conducting assessment centres virtually will inevitably lead to the odd technical issue. Candidates and assessors can experience technology failures and patchy internet signals. When this does happen, the best approach is to remain calm, communicate clearly with your candidate to reassure them, and to come up with a pragmatic solution to your problem. For example, if your teleconferencing facility goes down mid-roleplay, perhaps it would be best to simply switch to a standard call for the rest of the activity.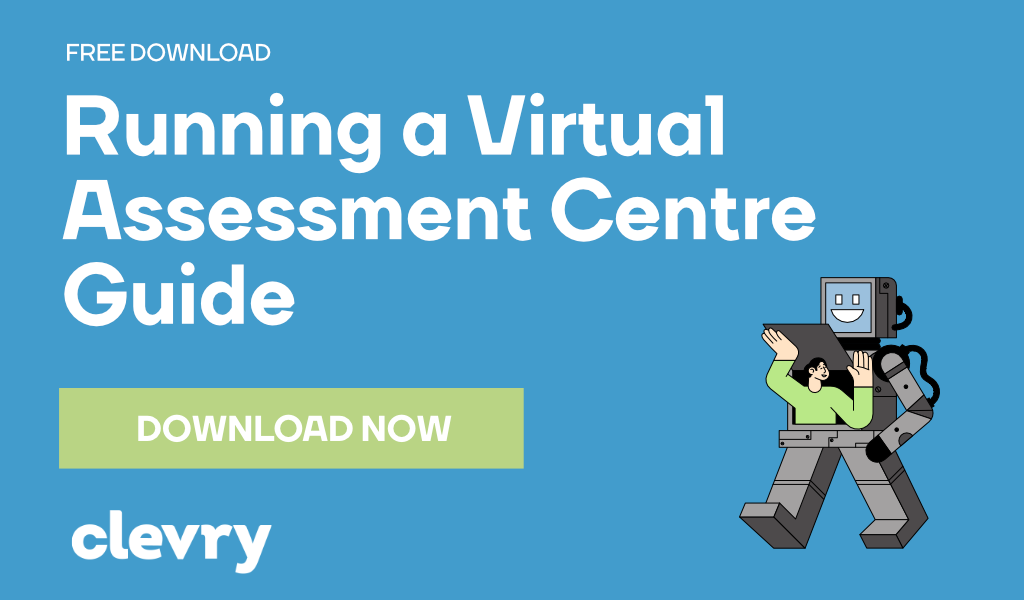 To support our clients and our wider HR friends at this time, we're working on offering advice, guidance and solutions that will allow you to minimise risk through face-to-face assessment centres, and successfully move the process to a digital environment.
If you're interested in reading more about virtual assessment centres check out some of our other blog posts including Planning a Virtual Assessment Centre, Designing a Virtual Assessment Centre, VirtualOnboarding Strategies and knowing what Strategic Interview Questions to Ask Candidates
For more information, or if you have any questions or need any advice, please do get in touch via our contact us page.